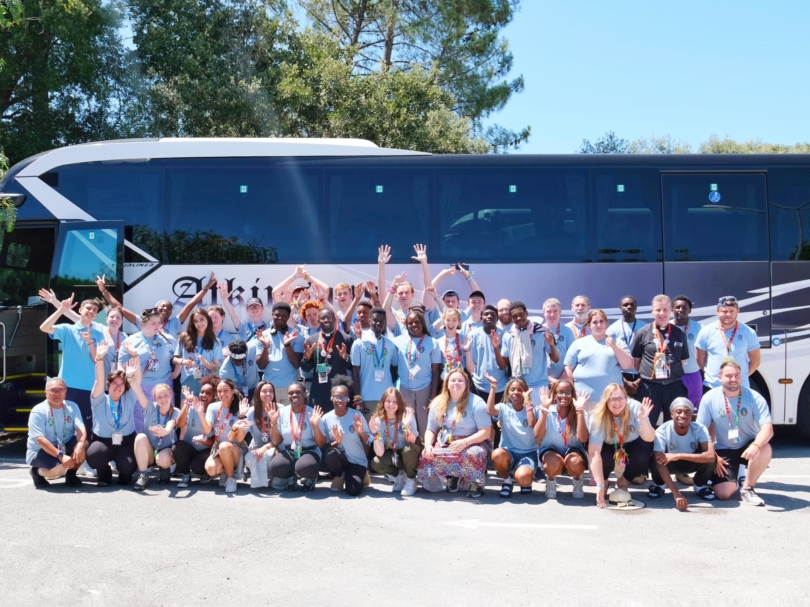 Nearly 50 young people from our diocese took part in World Youth Day in Lisbon with around 1.5 million pilgrims from all around the world.  They spent 12 days in Portugal, first as guests of families and parishes in Porto before travelling to Lisbon for an international and inspiring gathering, with prayer vigils, talks, catechesis and Masses with Pope Francis, cardinals and bishops, including Bishop Alan. The young people were accompanied by Fr Dominic Howarth, Fr Paschal Uche and Fr Anthony Cho.
World Youth Day is a chance to meet other young Catholics from across the world and be part of an inspiring vision of the young Church.
In the final Mass, Pope Franics urged the more than 1.5 million gathered young people many times not to be afraid, to listen and to let themselves be seen by Jesus, who knows their hearts.
The event was livestreamed by the Bishops' Conference at World Youth Day – Catholic Bishops' Conference (cbcew.org.uk)
The next WYD will be in Seoul, South Korea in 2027.
Fr Dominic Howarth, who travelled to WYD with our young people, writes: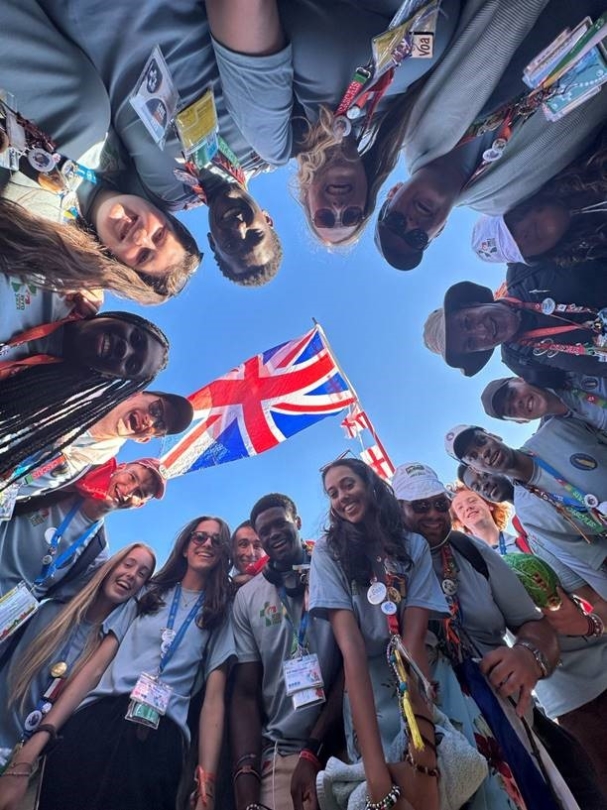 Forty six young adults from the Diocese have had a profound and memorable fortnight at World Youth Day in Lisbon, full of deep and significant graces.
Already, the Diocese is featured within an article on The Tablet  website: https://www.thetablet.co.uk/news/17464/young-adults-return-from-world-youth-day-renewed-by-hope-and-mission
On Sunday BBC Radio 4 have a special Sunday Worship featuring music and interviews from WYD. It begins at 08.10 and includes an interview from our very own Fr Paschal Uche, who travelled with the BCYS. Fr Anthony Cho was also with us – his third World Youth Day. We were very blessed to have Bishop Alan as a pilgrim walking with us for the second week of the trip; many thanks to him for his presence and kindness. Above all our young adult leaders deserve special mention; WYD is rigorous, and they have been absolutely magnificent; we are blessed with immensely gifted young leaders in the Diocese.
Attached here are short Top 25 quotes from Pope Francis WYD 2023 that catch the essence of the Papal Messages, Speeches and Homilies from the week. The full messages are well worth reading, and the link to all of them is: https://www.vatican.va/content/francesco/en/travels/2023/outside/documents/portogallo-gmg-2023.html
As well as the WYD messages, when the Pope spoke to Civil Representatives he offered a vision for Europe that is profound and challenging; that alone is worth spending time with, and bringing to prayer. https://www.vatican.va/content/francesco/en/speeches/2023/august/documents/20230802-portogallo-autorita.html
The pilgrimage included time in Porto, Fatima and Lisbon; there will be a fuller write-up on the Diocesan website soon. There are already many photos and snippets on the Brentwood Catholic Youth Service Instagram and Facebook pages; please go direct to @brentwoodcys.
Looking forward, there will be an International Gathering for young people as part of the Jubilee Year, 2025, with provisional dates of 28/7 – 3/8. There is also a Flame Congress in that year – 15 March 2025. The next World Youth Day is in Seoul, South Korea, in 2027. These dates are far off but come quickly; please continue to do all you can to encourage young people to follow the BCYS on social media, for regular updates and the opportunity to be involved – everyone is welcome! A reminder that we have the immensely impressive young singer and Catholic witness, Adenike, at the Youth Gather, Mersea Island, in October.
For now, there is an exciting sense of hope, faith, joy and energy within this group, that we can truly pray will bear deep fruit for their schools, parishes and the wider Diocese in the weeks, months and years ahead, as well as in their own lives. Or, as the Pope said to them, "God's heart beats uniquely for you … The Church needs you, and the world needs you, the young, as much as the earth needs rain."