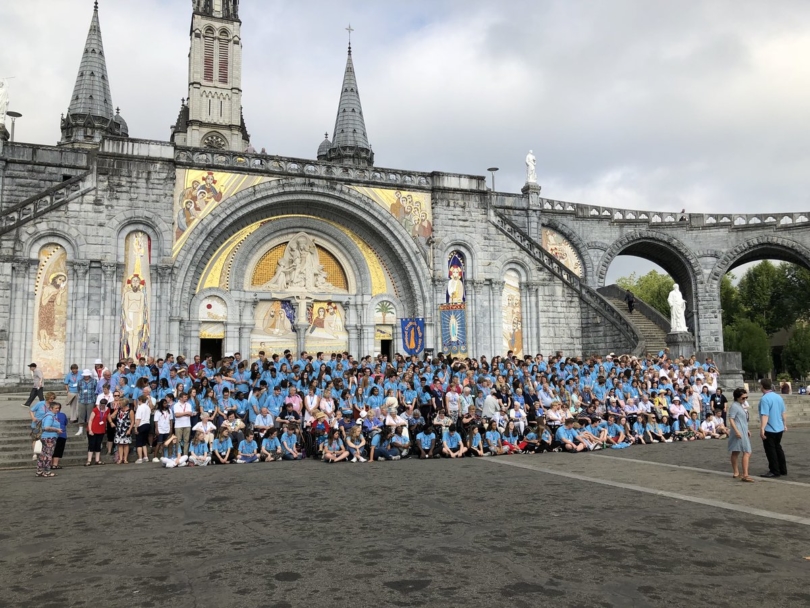 Brentwood's Catholic Youth Service celebrated 40 years of pilgrimages to Lourdes at the end of July. A record 253 young people and leaders spent 17 hours travelling in four coaches to accompany and support elderly and disabled pilgrims. The total count from Brentwood Diocese was just under 600, which included adult pilgrims, families with teenagers, parish groups and individuals, the medical team, BCYS helpers and Fr Bob Hamill's Catholic Fellowship, which cares for people with special needs. Building on last year's pilot, BCYS also staged a "virtual pilgrimage" for elderly and housebound parishioners back home, who were unable to be in Lourdes this summer. The flavour of the pilgrimage was communicated through video clip summaries of each day, recordings of homilies, and interviews.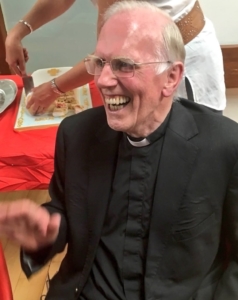 Interesting additions this year included a reflection by women on the different lines of the Hail Mary – and an interview with Mgr Bill Nix (right) who led the first youth group on pilgrimage in 1978. In it he recalls that the single coach carrying 53 young people left Clacton and travelled at no more than 30mph for the whole journey. There was no air conditioning and it took two days to reach Lourdes. "Then we arrived at our hotel to discover that everyone would have to share beds. But despite a hair-raising incident with a man and a gun at the end, it was very successful – and it is wonderful to see how it has grown and developed from that small seed."
At his opening Mass for the young people of Summer Lourdes 2018, Fr Dominic Howarth urged them to give each other strength and courage – and bring out each other's gifts. "Be open to the surprises of faith this week. Be surprised about who you are and the people around you. Lourdes is a place where a poor, illiterate, ill teenager had a vision of Our Lady. It is a place that reminds us of the frailties of life as we see those who are ill and who are elderly."
He continued: "This is not Love Island – the bodies that you see are not tanned, are not without blemish or wrinkle. They call Love Island a reality show but there is not much about it that is real. Here in Lourdes you will encounter the rawness of life, the challenges of life, amazing joy in utterly unlikely places. Love Island is a performance for the cameras – you don't need to perform here."
In fact, he said, Lourdes offers an amazing freedom from the judgement of those at home or at school. "You can reinvent yourself – shake off whatever is holding you back and step into a new adventure."
"Be in no doubt about the difference that you make to the pilgrims here, some of whom may not leave home for 51 weeks of the year or have been abandoned by their families. Our Catholic faith is brought to life in the loving service and kindness that you will do this week."
And it would not be all one-way traffic, he said. "There will be people here who have lived six times as long as you, who have experienced evacuation in WW2, for example. Their life stories will resonate with yours – because some things about teenage years don't change. Discover their wisdom."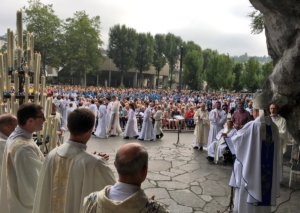 During the days which followed, the pilgrims, young and old, spent time together, listened to each other's stories and took part in a joint Grotto Mass with members of the Archdiocese of Liverpool. In his homily, Bishop Alan talked about the Pilgrimage theme – Our Lady at Cana – recalling that Mary noticed the difficulty at the wedding ('they have no wine') and also knew the solution ('Do whatever he tells you'). "In 1858 when Bernadette was a little girl she went to the river Gave to collect firewood but as we now know she was noticed by Our Lady and Bernadette's life and the lives of countless other pilgrims were transformed by Christ. If we can notice things and people as Mary noticed Bernadette, what a transformation that would be – inside of ourselves, heaven will touch earth."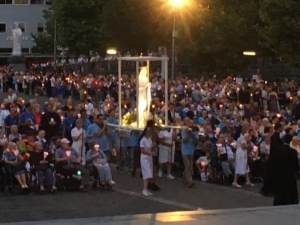 Some of the Brentwood young people had the honour of carrying the statue of Our Lady during the torchlight procession, where pilgrims walked with those from other English dioceses like Clifton, Salford, Westminster and Liverpool.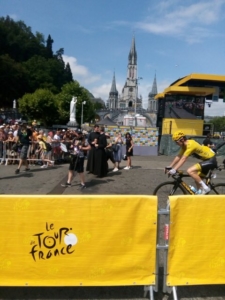 Forty lucky pilgrims and helpers had front row seats for the Tour de France and saw Archbishop George Stack bless Geraint Thomas before he began the final mountain stage of the race. Some met Sr Luigina whose miraculous healing from paralysis was recognised as the 68th miracle of Lourdes in February by Pope Francis. A quiz night, a session reflecting on what the Church needs to discuss at the Youth Synod in October and another where the young people could ask Bishop Alan questions, were other highlights. Fr Dominic gives a flavour: "The young people asked Bishop Alan if he wants to be Pope ("No! And it's not up to me"); about prayer ("Pray as you can"); which "underrated" saint he would like to highlight more ("Bernadette"); and about judging by appearance (Don't!)." Fr Dominic adds: " These little summaries don't do justice to the superb dialogue that took place."
The young people's pilgrimage finished with a visit to splendid caverns and caves, and a truly glorious day in the mountains. "Our year 13s breathed and celebrated God's creation, helping each other cross a melting glacier and climb to the spray of the waterfall. They were so kind and encouraging, so joyful and such a delight to be with."
The climb to the Gavarnie waterfall was a particularly meaningful experience for one young person in particular. Hannah Smith was so moved by the Lourdes trip that she wrote a blog about it: "I think of the point when I finally reached the top of the waterfall, looking down at how far I had come to get there. I think of that as a symbol for the struggle I have experienced over the last couple of months. It was as if reaching the waterfall was symbolic of me finding genuine friendship and reuniting with my faith."
Pauline Spratt, an adult pilgrim making her first visit to Lourdes, also spoke about the pilgrimage. "I found it a very tranquil and enjoyable experience. The services were wonderful – especially the singing by BCYS."  She felt particularly heartened by the numbers of people there generally, and the number of young people in particular. "There were people from all over Europe – English, Scots, Welsh, French, German, Spanish, Dutch – at the torchlight procession. Yet despite the number of people in Lourdes, you could always find a place that was peaceful and tranquil."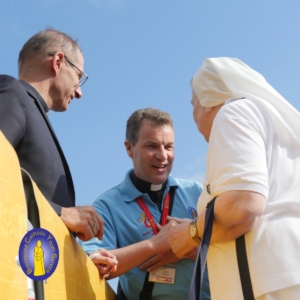 In his closing homily, Fr Dominic (left with the Bishop of Lourdes and Sr Luigina) talked about the fertile ground God creates in surprising places – and the thorns that can choke us off from what really matters. He cited the profound conversations and moments of connection across the generations that had taken place during the week as examples of deep-rootedness in God's fertile soil. "One of our pilgrims, George, has shared stories of his time working in Alaska, for example, opening young minds to the possibility of working abroad," he said.
He continued: "The heart of Lourdes is not the grotto or the waters, it is a relationship – the encounter between Mary and Bernadette, which points Bernadette on to the heart of Jesus, through prayer, water, candles carried in procession."
For those who still feel that they are on stony ground, who feel that nothing has changed for them in Lourdes, he quoted Robert Brault: 'Life becomes easier when you learn to accept an apology you never got.'
"If we are on that stony ground, finding it hard to get rooted, it might be because we are holding some bitterness. I urge you to let that go – leave it here in the heart of Our Lady. Jesus does not want us to stay rootless on the stones, or choked by the thorns. He wills us to the fertile ground."
The 40th anniversary pilgrimage logo – 'More precious than rubies' – reminds us that we are all precious in God's eyes, he added. " God loves you as you are and calls you to be extraordinary. Dare we shout that to a world where there is so much brokenness and pain? The story of a little, poor, ill girl here in 1858 shows us that even those who think themselves weak, excluded, written off, even they – and especially they – can find themselves planted in rich soil."
He finished by urging those listening to notice changes in themselves as they returned home. "If that change is from God, it is new roots putting into fertile soil, a wellspring of grace that you carry from the grotto, from the encounter of Bernadette with Our Lady, to your encounters with family and friends. Nurture that fresh growth, nurture those new roots," he said.
Hannah summed up her own encounter with Lourdes: "Being part of the Year 13 group taught me so many things like how to be patient and understanding. How to be grateful for what I have and not dwell on the things I do not. How to not take for granted the simple things in life but to glorify in them. How a single smile, a reassuring touch or a friendly hug can change a person's whole day." She concluded: "The pilgrims this year have filled my heart with so much love and each and every interaction has taught me something entirely unique and for that I am eternally blessed."
You can view the interviews, video clips and homilies at www.bcys.net
Read Hannah's blog here
Bishop Alan preaches at the Grotto Mass