Gabriella Skinner, Pilgrimages and Events Co-ordinator, Brentwood Catholic Youth Service, writes: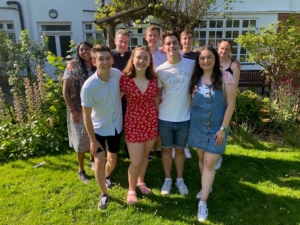 It goes without saying how much we have missed working with the young people over the last year and a half, so we are thrilled to be able to welcome everyone back to events this autumn.
Thursday Youth Mass
From September a brand new Youth Mass will begin – taking place on the first Thursday of the month at Brentwood Cathedral.
The evening will start at 6pm with workshops, speakers, reconciliation and more, which will differ each month as well as welcoming different priests to preach. Food and drink will be provided, with those coming straight from work or school in mind.
Brentwood Cathedral is just a short walk from Brentwood train station, or there is ample parking in the Cathedral car park for those able to drive.
All are welcome: new people, old friends, school and confirmation groups, so please do come along.
https://bcys.net/events/september-youth-mass/
The First Youth Mass for this year will be on Thursday 2 September, and will simply begin with a celebration in the Parish Hall, as we are finally able to celebrate Youth Masses together again. So please do join us from 6pm and for Youth Mass at 7:30pm.
The following months will include a workshop from One Hope Project in October, a chance for quiet remembrance in November and an Advent Reconciliation service in December.

Autumn Youth Gather is back
This year we will invite all young people from school year 9 and above to join us at Walsingham House at Abbotswick for a one-day event on Saturday 23 October.
Leila Bousbaa is a former Walsingham House volunteer and 'BCYS-er', who will inspire and educate us on the Catholic response to climate change.
The cost is just £20 for the day and you can book online now at https://bcys.net/events/youth-gather-2021/
(If you are a catechist, chaplain or youth leader and would like to bring a group please email me directly at GabriellaFusi@dioceseofbrentwood.org.)

Catechist training and resources day
This training and resources day will once again take place at Sacred Heart of Mary School in Upminster, on Saturday 6 November 2021. It is open to all First Holy Communion and Confirmation Catechists, as well as those who look after the children's liturgy in the Diocese of Brentwood. It will be an opportunity to hear about fresh resources, as well as receiving input to assist you in your First Holy Communion and Confirmation programmes.
As always, there will be keynote speakers and updates from the BCYS in the morning, with a variety of inspiring and exciting workshops for you to choose from in the afternoon.
We would particularly like to welcome any young catechists or young people in your parish (16+) who may be interested in working as or with catechists, and wish to develop their faith further post-confirmation.