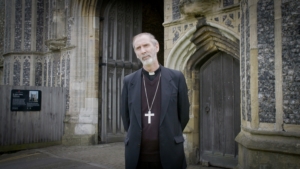 Bishop Alan writes:
"Following the instruction that the Prime Minister gave last night, all churches have been closed. This decision will be painful and difficult for many but I believe it is now essential for the benefit of others and stopping infection.
The instruction is very clear on the occasions when someone can leave home:
*   Shopping for basic necessities, for example food and medicine, which must be as infrequent as possible.
*   One form of exercise a day, for example a run, walk, or cycle – alone or with members of your household.
*   Any medical need, or to provide care or to help a vulnerable person.
*   Travelling to and from work, but only where this absolutely cannot be done from home.
Our daily celebration of Mass will continue and can be accessed through streaming services and Instagram (website is being updated regularly). More than ever, at this time, we need the Lord's presence in our midst.
In the meantime we continue to pray for each other and especially for the vulnerable and elderly amongst us at this time."
Live streaming from parishes around the diocese
Forest Gate:  https://youtube.com/c/stantonysFGUK
Loughton: 10 a.m. each day via Facebook: https://www.facebook.com/stedmundsloughton/
Royal Docks:  10 a.m. each Sunday
Access via YouTube channel 'Royal Docks Catholics' : https://youtu.be/YUoqJMb22A8
Billericay:  Recorded Sunday Mass.  Access via parish website: www.mostholyredeemer.org.uk.
Stansted: Live streaming each day except Tuesday https://www.facebook.com/StTheresaStansted
Eastwood:  Morning and evening prayer is streamed live 9:30am & 6pm respectively and daily Mass 11:30am.. All accessible on the St Peter's, Eastwood Facebook page: https://www.facebook.com/StPeterEastwood/
Walsingham House at Abbotswick: 10.30am each day – people will find it on the Instagram page BrentwoodCYS. They can send prayer intentions by commenting on the page at any time.
Leigh-on-Sea: Monday – Thurs 9 a.m; Friday 12 noon; Saturday 10 a.m; Sunday Vigil Mass on Saturdays at 5.30; Sundays at 11.30 https://www.youtube.com/watch?v=Q1Qlx7NK3tU
Walsingham: 24 hour streaming which includes adoration, Mass and various talks and prayers during the day. http://walsingham.org.uk
Wickford: Access via parish website: http://wickfordcatholic.com/
Tuesday 7pm Devotion to St Anthony of Padua 7.30pm Holy Mass
Wednesday 9.20am Holy Mass followed by the Rosary
Thursday 9.20am Holy Mass followed by the Rosary
Friday 9.20am Holy Mass followed by the Rosary
Friday 7.30pm Stations of the Cross
Saturday 9.20am Holy Mass followed by the Rosary
Saturday 6pm Vigil Mass
Sunday 10am Mass
Hornchurch, English Martyrs: 9am weekdays and 10am on Sundays: https://www.youtube.com/channel/UChSsc6asw-XiZJwuKAxJ8TA
Hornchurch, St Marys; Access via Parish website www.stmaryshornchurch.org.uk
Or YouTube: St Mary Mother of God Church Hornchurch
Mass 10am Monday, Tuesday, Friday. 10am Sunday
Ilford – Mass is streamed on https://www.churchservices.tv/ilford
Brightlingsea and Wivenhoe: a streaming service via Youtube, streaming Mass at 11am.
Our Lady and All Saints, Basildon (www.basildoncatholics.org) now has a dedicated Youtube channel streaming Mass, rosaries and prayers:  https://www.youtube.com/channel/UCK1wrejU7bleypfu2viputw
Chadwell Heath 11.00am Sunday Mass at St Bede is now streamed live: go to http://www.stbedechadwellheath.co.uk/  for a link.
Manor Park (St Stephen & St Nicholas): youtube.com/channel/UCXkmUk78ejawBQmfX6zi1Xg  
East Ham (St Michael's): youtube.com/channel/UCTNkco-Z9Lo4EgoRHzOHtJA
Chelmsford. (Our Lady Immaculate) : https://www.youtube.com/channel/UChlkkivPXvddwvUOQzd9itA
Wanstead, Our Lady of Lourdes: Sunday Mass will be live streamed from  Sunday 29 March at 11am from YouTube channel http://tiny.cc/OLOLE11

Hornchurch, St Mary's; Access via Parish website www.stmaryshornchurch.org.uk
Or YouTube: youtube.com/channel/UCTqMwxA9yN1B_l-BuzAlHNg
Mass 10am Monday, Tuesday, Friday. 10am Sunday
Upton Park, Our Lady of Compassion is streaming daily Masses at 10am, which can be watched with subtitles at a later time: https://www.youtube.com/channel/UC2X8Yf_TzOpdzT9-nxw2zCA
Grays, St Thomas of Canterbury, will be streaming Sunday Mass at 9am from Easter Sunday onwards: https://www.youtube.com/channel/UCRKyoLGffJ35Fp0_jVR71Bw