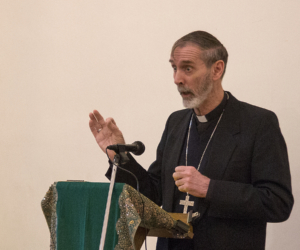 Bishop Alan has written to all parishes, following the Prime Minister's announcement of a further four-week lockdown.
He said: "From Thursday 5 November, public Masses will have to be suspended once again and will only be permitted to be live-streamed although, as previously, churches may remain open for private prayer."
He referred to item 5 of the National Restrictions from November 5, which states:
Places of Worship will be closed, unless they are being used for:
Funerals
To broadcast acts of worship
Individual prayer
Formal childcare or where part of a school
Essential voluntary and public services, such as blood donation or food banks
Other exempted activities such as some support groups
https://www.gov.uk/guidance/new-national-restrictions-from-5-november
Bishop Alan continued: "I know that many of us will be very disappointed by the news which is indeed 'a source of deep anguish'.  As the attached statement (2020.10.31 – Statement – PMs Statement – FINAL[26227] ) from the President and the Vice-President of the Bishops' Conference says, our communities have made extraordinary efforts to make our churches safe places in which we have been able to gather in supervised and disciplined ways.
"I also know that our people, priests and parishes are resilient and that we will, of course, fully support agreed national guidelines in solidarity with our fellow citizens."
He cited a response received from a parish priest following an earlier email: 'Please be assured of the love, prayers and mass of this parish. We live in testing and complex times but we must remember the Lordship of Christ in all things. Hard to understand but we must believe that Julian of Norwich was right about all things being well.'
Bishop Alan concluded: "I remain grateful for your endurance, your love and your generosity in these difficult and uncertain times."