Caritas Brentwood's Fr Dominic Howarth and Steve Webb write: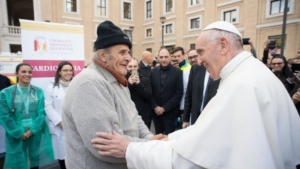 Sunday 15 November marks World Day of the Poor, inaugurated by Pope Francis four years ago.  His message for the day says: "Encountering the poor and those in need constantly challenges us and forces us to think. How can we help to alleviate their marginalization and suffering? How can we help them in their spiritual need?"
This is a challenge for us all; today is a day to think and pray about the many works of charity in our parish and the Diocese. You may be inspired to volunteer, or know someone in need of help – have a look at www.caritasanchorhouse.org.uk. The website includes a wide range of projects, covering many different groups who are "on the edges" of society, and of Church, and there is some wonderful work taking place, often in hidden and heroic circumstances.
To read Pope Francis message for today go to http://www.vatican.va/content/francesco/en/messages/poveri/documents/papa-francesco_20200613_messaggio-iv-giornatamondiale-poveri-2020.html
Bishop Alan has once again asked parishioners to consider giving either to Caritas Anchor House, or a local homelessness project over the weekend of 15 November. Caritas Anchor House is a Catholic charity based in Newham, working with over 140 homeless people every day. You can read more about their amazing work at www.caritasanchorhouse.org.uk
The World Day of the Poor follows hard on the heels of Real Living Wage week. After months where key workers and care workers have been at the "front line" it remains the case that many are not paid enough to support their families. The Diocese of Brentwood is actively committed to the Real Living Wage, which lifts such hard working families from poverty. This is an integral part of our faith. For lots of information please look at https://livingwage.org.uk/. From 9 November there was a specific campaign to ensure workers in care homes are paid the real living wage. This campaign is supported by a number of Catholic Bishops, including Bishop Alan. Find out more at www.citizensuk.org