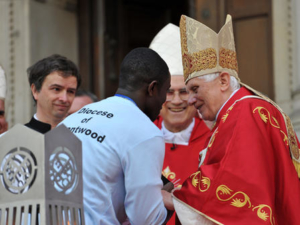 Ten years ago in BCYS blue Paschal Uche greeted Pope Benedict XVI on the steps of Westminster Cathedral during the Papal Visit, on behalf of the UK's Catholic youth. He impressed all those who heard him, including Pope Benedict himself. (Read more Brentwood Diocese plays its part in the recent Papal Visit)
A decade later, Paschal is about to be ordained a priest by Bishop Alan Williams sm. The ordination will take place on Saturday 1 August at 11.30am in Brentwood Cathedral.  It will be a very different day from that he might have anticipated when he became a deacon last year at Oscott. While his immediate family and some priests who have journeyed with him will be present, many friends will be watching via a livestream (http://ssppilford.org.uk/wp2/live-stream-church-services/) rather than sitting in the congregation. "It is very sad that all those who have been supportive over these years cannot be there," he says. "I don't feel the giddy excitement that some people seem to expect but I feel more sure than I have ever been about what I am called to do. The enormity of it is sobering  – and perhaps the circumstances have made it a more prayerful and reflective entry into priesthood."
Paschal is a familiar face to many in the Diocese and was a member of Brentwood Catholic Youth Service before beginning to train for the priesthood at St Mary's, Oscott.
"I first became involved with BCYS through my sister, who had been to Lourdes with our Stratford parish. But it wasn't until I went to World Youth Day in Sydney that I began to think about priesthood. The religious sisters I saw there, young women who had given their lives, were inspirational. I became aware of the adventure of a life giving yourself completely to God."
He went on to study pharmacy at Nottingham University to keep his options open but by the time he had completed the course, the seed had grown. He was influenced, he says, by the Nigerian chaplaincy priests he had encountered as he grew up in Stratford, particularly Fr Albert Ofere. Paschal was accepted as a seminarian by Bishop Thomas McMahon, Bishop Alan's predecessor, in 2014.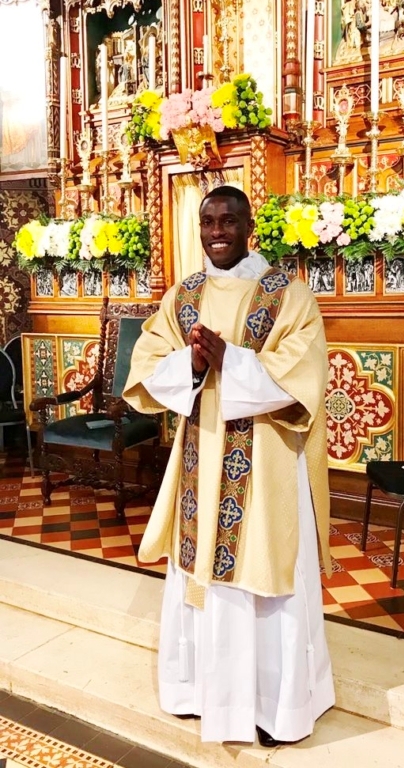 His ordination as a deacon at Oscott last year, when he made his promises of celibacy, prayer, and obedience, was an "an amazing day". "It was so joyful and powerful – the most memorable day of my life. I have wanted this for so long – it is the culmination of a journey. Everything came together and made sense. I had a moment when the gravity and privilege of being called to be a priest really dawned on me – what that means."
Priesthood is an adventure, he says, because you do not know fully how your life will develop. "The alternatives – marriage and a job in pharmacy – seemed so predictable. The uncertainty and sense of adventure of priesthood excited me and drew me in a way that the norm of marriage and job didn't."
Did he think about what he was giving up – marriage, a family? "That wasn't the focus for me; it was the draw of priesthood, becoming an instrument for God and all that meant. It didn't mean that I didn't think about what I was giving up – but giving up everything is part of giving myself fully to God."
Since his diaconal ordination he has been finishing his studies and helping out at weekends in a parish local to the seminary. A highlight there has been running a Parish Mission with his house group from seminary. "It was a really rewarding experience," he says. "Seeing parishioners affected by what we were doing was very powerful."
He recently made a video about what it is like to be a young black Catholic in the UK. This was an initiative from Westminster Diocese after the death of George Floyd and the Black Lives Matter campaign which followed. It featured stories from four young black Catholics.
In it, Paschal talks about the fact that he will be the first British-born black priest ordained in our diocese and the need for young black people to feel part of the Church. Sadly, he says, "I believe that the Catholic Church bleeds out young, particularly black young people, to other churches or to no faith at all because they may not have found a home in the Church. If you look at the clergy and leadership, the black population is not represented there – there is a lack of integration.
He says: "I was inspired by a vibrant black priest – Fr Albert Ofere – and was able to see the reality and be open to the idea of God calling me." His advice to young black people is based on something he heard Denzel Washington say in an interview. "We have to be ready to make the difference in our own time − humbly knowing that we won't be able to eradicate racism, that we won't change the reality on the ground – but make the difference we can in the time we are given." He adds: "Be assured that you have a particular gift, you manifest the beauty of God in a particular way which you can discover and share with the family of the Catholic Church."
Going forward for the Church, he says, there can be a desire to repair without repenting. "There needs to be an acknowledgement of the sins of our past – and I would like to see more priests and deacons preaching about racism and how contradictory it is to our faith."
He also believes it would be extremely valuable to bring in missionaries from other countries. "I am the product of a missionary who went to Nigeria and in a way that has turned full circle. Bringing in missionaries would fertilise the soil here, foster vocations and the life of the Church," he says.
"I would like to think that we can be bold enough to speak about things that might seem hard and uncomfortable. Christ holds healing to the wounds we have. In him is true reconciliation. We should settle for nothing less than real reconciliation and proper celebrated integration of the different races of the children of God."
Watch the video here: https://www.dioceseofbrentwood.net/news/watch-black-catholic/
Fr Paschal Uche will assist Canon Pat Sammon at Wanstead parish until September when he will move to St James the Less and St Helen in Colchester.
Streaming link
The ordination and his first Mass at Our Lady of Lourdes, Wanstead on Sunday 2 August at 3pm will be livestreamed via the following link: