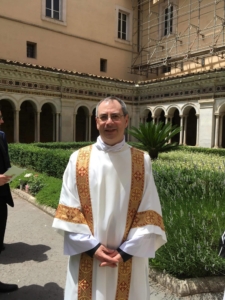 On Saturday 11 July Bishop Alan Williams sm will ordain Adrian Lowe to the priesthood at St James the Less & St Helen, Colchester at 11.30am. The ordination will take place behind closed doors but with a small congregation including some close friends.
Although some members of his family are shielding and cannot be present, Deacon Adrian says he is looking forward to celebrating with a Mass of Thanksgiving in the future, when things are more normal. "I have been reflecting on the blessings and graces of my year as a deacon," he says. "It is a role based on service including pastoral care and it has been a challenge because we cannot be near people at the moment. However, I have been able to minister online and over the phone so that it is more 'physical distancing' rather than 'social distancing'. It has been a joyful year and I am looking forward to my first appointment in Wanstead with Canon Pat Sammon."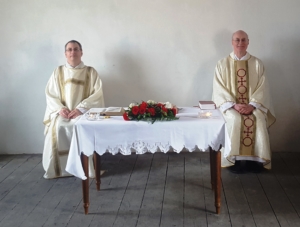 Deacon Adrian (left with Mgr Chris Brooks at an historic Mass in St John's Abbey Gatehouse) has been studying at the Beda College in Rome. He returned in March at the time of lockdown and finished his studies online.
We wish him every blessing as he is ordained.