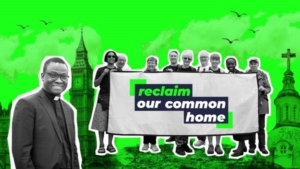 Over the summer parishes across Brentwood Diocese will be organising online meetings with their local MP to urge the UK to demonstrate leadership on climate change as host of two major global events this year.  The G7 Summit, a gathering of government leaders from some of the world's richest nations will take place in Cornwall from 11-13 June and in November the UK will also host the COP26 UN Climate Talks in Glasgow.
The coronavirus crisis has proved that we need greater cooperation between nations, solidarity between people and a greater focus on the poorest in society, as they struggle to cope with poverty, hunger and in many places, the impact of climate change.
CAFOD's representative in the diocese, Chris Driscoll says:
"As Catholics, we are called to not stay silent and not to be passive. And our voices are needed more than ever this year, as the UK hosts two major global events – the G7 Summit in June in Cornwall and the COP26 UN Climate Talks in Glasgow in November. The UK can have significant influence on these meetings as host, so we need to make sure our political leaders hear, now, that we want the world poorest people to be at the heart of these talks."
Parishioners from St Joseph's Catholic Church and St Lawrence's CofE Church met online recently with Upminster and Hornchurch MP Julia Lopez. Three Catholic parishes in Chelmsford are preparing to meet with Chelmsford MP Vicky Ford this month and the Green Guardians group from Brentwood Cathedral will be meeting their local MP Alex Burghart in September. Other parishioners in Woodford Green, Danbury and Shoeburyness are hoping to arrange similar meetings over the summer.
Two issues have the greatest potential to make a difference. Firstly, as poor countries struggle with the devastating effects of the pandemic, parishioners are urging that the crippling debt repayments that they continually make to richer nations and private banks be cancelled to help them cope. Read more here.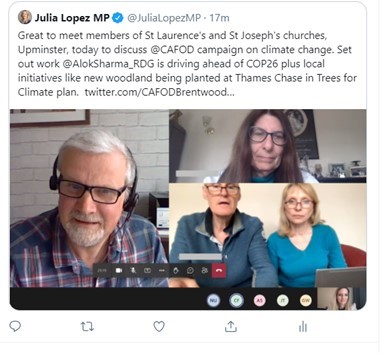 Secondly, parishioners will insist that decisions are taken to keep global temperature rises below the disastrous 1.5-degree threshold. Many of the world's poorest countries are struggling to cope with the effects of climate change such as increased droughts, floods and cyclones. We must urge the Prime Minister to make sure communities hardest hit by the climate emergency are listened to at COP26.
Could you and fellow parishioners organise an online meeting with your local MP to discuss these issues? Full support is given by CAFOD including setting up the meeting, advice on speaking to MPs and information on the issues at stake.
You can read about Parliament in your Parish here on CAFOD's website: https://cafod.org.uk/Campaign/Campaign-with-us/Parliament-in-your-parish
An online petition has also been organised and CAFOD is inviting parishioners to sign their name urging the Prime Minister to make sure world leaders show the ambition needed to stop temperatures rising beyond a disastrous 1.5 degrees, with each country committing to do its fair share. Please sign the online petition here https://action.cafod.org.uk/page/73304/petition/1