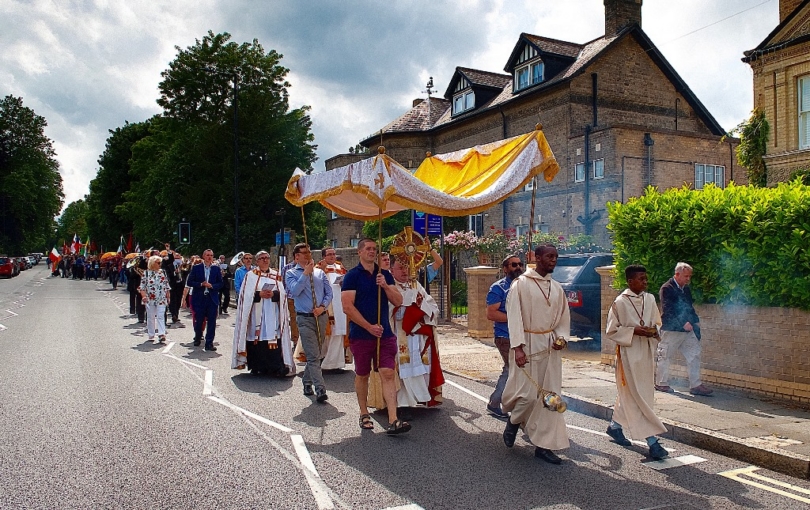 Chelmsford's Catholic community came together for their annual Corpus Christi procession recently, led by Fr. Hugh Allan, parish priest of Our Lady Immaculate Church, New London Road and Norbertine Abbot at St. Philip's Priory.  The event was reintroduced seven years ago after a 60-year hiatus to celebrate the county town being granted city status.  
More than 400 residents joined the procession, which featured children who had just taken their first Holy Communion, the Tilbury Marching Band, Cub and Scout groups, Syro-Malabar Catholics, and representatives from St John Payne School, St Pius X School, St Francis School, Braintree and Our Lady Immaculate School, Chelmsford.
Fr Hugh said: "I thought it was excellent; it was a very positive thing for us to be seen as part of the community and to say we are here.
"We got a good reception as we walked past, with people coming out of the pubs with their pints to watch. It is a celebration of our faith and a statement of our belief.
"We say, this is what we believe, we are happy and we want to share this with our community."
The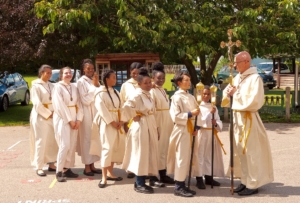 Feast of Corpus Christi celebrates the real presence of the body and blood of Jesus Christ, the Son of God, in the elements of the Eucharist. It has been celebrated since the times of St Thomas Aquinas.
Fr Hugh added: "This is also about celebrating our place, Chelmsford, where we are and although this is an ancient ceremony it's taking place in our city today."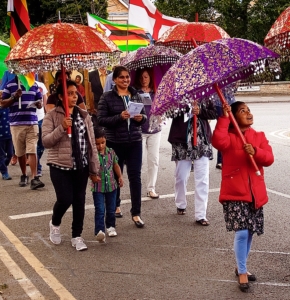 Starting at Our Lady Immaculate church, the procession continued through New London Road into New Writtle Street, then to Moulsham Street, through Southborough Road and back onto New London Road. One of the main organisers, Des Kelly, said: "It's a great way to show unity together and to celebrate our faith."
More than 20 different national flags from countries as far afield as Belize and India were represented as the worshippers snaked their way through the streets.