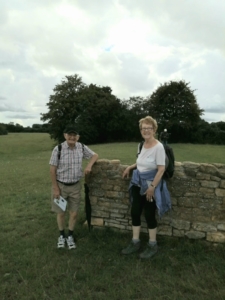 Parishioners from four Chelmsford parishes will be donning their rambling gear over the next few weeks as they attempt to walk the distance of the St Peter's Way pilgrimage route in Essex.
Anne and Brian Winder, Cathie and Brian Wickham, Jack and Margaret Brittain and Pauline Spratt are CAFOD volunteers and parishioners from the Holy Name, Blessed Sacrament, Our Lady Immaculate and English Martyrs parishes in Chelmsford and Danbury.
With the exception of Pauline, who with her friend Janet is walking the actual route, the others are walking the route 'virtually' and will cover the 45 mile distance through their regular walks and activities. The team have accumulated 17 miles already through local walks and a rambling weekend in the Cotswolds. Pauline and her friend Janet plan to walk stages of the St Peter's Way walk throughout September.
The Peter's Way walk https://britishpilgrimage.org/portfolio/st-peters-way/  is a route devised by the British Pilgrimage Trust which meanders through the Essex countryside south of Chelmsford from Chipping Ongar to St Peter's Chapel in Bradwell-on-Sea, also known as the chapel of St Cedd, who founded and built the chapel in the 7th century. The route passes some important historical and natural sites including the oldest wooden church in the world at Greensted, petrified oak trees around Mundon, the bird-filled reservoir at Hanningfield and the tranquil and spiritual landscape of the Dengie peninsula.
Anne and her husband Brian felt it was a good opportunity to use their walks on a rambling trip to the Cotswolds as a way of contributing to the distance.  Anne said: "We may have been physically walking in another location but our minds and spirit were keenly on the St Peter's Way route!"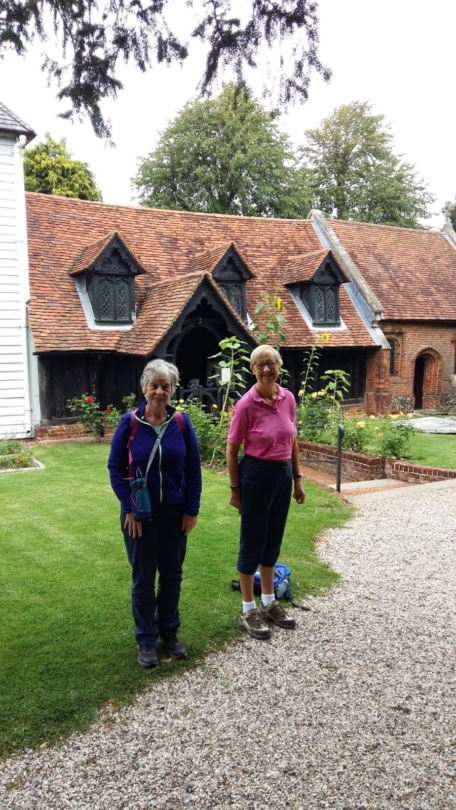 Pauline and her friend Janet walked 11 miles from Greensted to Margaretting in the first leg of their St Peter's Way walk before they resume their journey in a fortnight. Reflecting on the walk, Pauline said: "When walking the Camino some years back, Fr Niall Harrington (formerly priest at Danbury) informed me that it is a tradition to pick up a stone at the beginning of a pilgrimage and make an intention, a prayer, perhaps as an act of penance, and carry it with you on the journey. You will often see a cairn or mound of stones, rocks or objects that people have carried with them on the Camino. I picked up a stone at Greensted, made an intention, and carried it with me for four hours and 11 miles until we reached Margaretting. I couldn't see a cairn but I placed my stone down in any case! It was a spiritual act and reminded me that we are all on journeys which have moments of burden and moments of promise."
CAFOD has been encouraging supporters to consider organizing activities over the summer such as sponsored walks, sleepouts, cream teas and quizzes in support of its coronavirus appeal. Building on the knowledge and experience gained from their work fighting Ebola, CAFOD is working to ensure their local experts are as ready for the coronavirus as they can be. CAFOD's ongoing work to provide clean water, hand washing facilities and training to communities in need will be critical.
You can follow the progress of Anne's team and Pauline and Janet on their JustGiving pages. Please do consider sponsoring them for taking on this challenge and supporting CAFOD's coronavirus appeal. Click on the link below for more information:
Chelmsford parishioners 'virtual' St Peter's Way walk:   https://www.justgiving.com/fundraising/chelmsford-virtual-pilgrimage
Pauline and Janet's actual St Peter's Way walk: https://www.justgiving.com/fundraising/st-peters-way