On 26 September the Sisters of the Sacred Hearts of Jesus and Mary at Chigwell Convent celebrated the 150th anniversary of the arrival of the Order in the UK. Bishop Alan presided at a Thanksgiving Mass zoomed to their 29 communities worldwide.
On the altar was a book of remembrance, detailing the many sisters who have served since 1870 – to be included in the prayers during Mass. Sr Mary Mangan, leader of the congregation said, "There are at least 600 names in the book – and we must always remember that we are standing on the shoulders of those who went before us."
She referred to the story of the nuns' arrival in England as refugees during the Franco-Prussian War. "Just think for a moment about their situation then: not knowing what was going to happen when they left Germany or France, simply having to trust in the Holy Spirit."
Sr Lorna Walsh went on to tell that story in more detail: In 1865 Fr Victor Braun, working in Paris, recognised that young German women arriving in Paris looking for work were in danger of being picked up and trafficked for sexual exploitation or slave labour. He gathered a few young women to help him to establish safe houses for them and on the 17 October 1866, the feast of the Blessed Margaret-Mary, he consecrated those helpers to the Heart of Jesus. "This day is seen as the Founding Day of our Congregation which was then known as 'Servants of the Sacred Heart'."
Just four years later, in 1870, the Franco-Prussian war broke out. All German nationals were ordered to leave France – this included many of the sisters and Fr. Braun himself, who returned to Metz before joining the army as a chaplain.
A Red Cross worker from Ireland called Josephine Gibson met the remaining sisters while working in the army hospital in Versailles and joined them as a postulant. Despite the danger, Josephine decided to take three German-born sisters to safety in England under the protection of the British Red Cross. But even with Red Cross passports they were looked on as spies by the French soldiers, badly treated and one sister was even imprisoned for a short while.
Josephine made three more journeys eventually bringing ten sisters to safety in England. Fr. Braun came with her on her last journey – going the long way around through Germany, Luxembourg and Belgium in order to avoid war-torn France.
On their arrival in England the sisters had been welcomed into the Diocese of Westminster by Cardinal Manning and different congregations gave them accommodation – the Sisters of Charity, the Sisters of Mercy and the Nazareth Sisters. When Fr Braun arrived, a meeting with Cardinal Manning led to the congregation's first foundation in England at 2 Eden Villas, Stratford, London.
"Josephine became a novice known as Sister Marie of Jesus, but after this she disappears from our history. We have no record of what happened to her. She was the instrument chosen by God to establish our congregation in England. We owe her a deep debt of gratitude and pray that her life was blessed as she moved on," said Sr Lorna.
Stratford at that time was overcrowded, she added. People were very poor, and many were sick because they could not afford decent housing or food. The sisters were soon fully occupied nursing the sick in their homes, offering working girls an education and a future and providing spiritual and practical support. Young women from England and Ireland were soon inspired to join this small group. In 1871 alone, nine young women joined as postulants.
The Franco-Prussian war ended in May 1871 and on 29 January,1872 in the Parish of Stratford, East London for the first time since the founding of the congregation in 1866, thirteen sisters made their first profession. The superiors of the four houses in France also came over to make their first professions. On the same day two more postulants joined the congregation.
"This year is the 150th anniversary of the sisters' arrival in England: the seed that grew into our congregation of the Sisters of the Sacred Hearts of Jesus and Mary. From a few German refugees, our Charism has spread throughout the UK and Ireland, to the Americas, Africa and The Philippines. Today, refugees get a bad press; as we remember with gratitude our own refugee beginning, let us pray that all refugees will be welcomed in their new countries."
Given the Covid-19 restrictions, she said, it had been agreed that the congregation would celebrate the 150th anniversary of the first professions in 2022, "but we wanted to mark this anniversary of our arrival in England and give thanks to God for all the blessings we have received".
Sr Lorna concluded: "Let us echo the voices of our first sisters and join together in the prayer that has been said from the beginning of our foundation – 'May the Sacred Heart of Jesus be everywhere loved. Immaculate Heart of Mary pray for us. Amen'."
In his homily, Bishop Alan referred to the "wonderful gospel of the visitation" that had been read during Mass. "It marks the beginning of the adventure of Mary, the Mother of God. It is a very personal moment when Mary looks towards God, questions, and then says a grace-filled 'yes' to him. As Elizabeth will say when she visits her, 'blessed is she who believes'."
While the gospels narrate the work of Jesus, there are precious moments about Mary, he said. "Remarkably, in the really important, critical times, we hear about her. At the wedding in Cana, for example, and at the cross of Jesus, when the apostles have fled, it is Mary and the faithful disciple who remain."
He added: "Most of Mary's witness, her work, was hidden, but 2000 years later that wonderful work of mercy is still continuing in this congregation. The book of remembrance contains the names of all the sisters. Many lives have been changed by the witness, faith and goodness of these sisters. We give thanks for that."
He read a prayer that he felt was very apposite, derived from the Order's own mission statement.
Faithful to our call to an everlasting faithful God,
We devote ourselves to our share in the mission of Jesus.  
Empowered by the Holy Spirit, we deepen our relationship with God and each other.
Attentive to the needs of the world, trusting in God's goodness and inspired by the fidelity and Faithfulness of Mary, we open ourselves to Spirit-filled newness of life.  
We live in this blessed moment and move forward in hope to serve the living, all powerful, Triune God, Father, Son and Holy Spirit.  Amen, Amen, Amen  
The Bishop concluded: "The Sisters have the heart of Mary as they respond to the gospel and they take it all on trust – yesterday, today and tomorrow."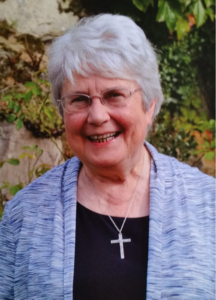 After the Mass, Sr Mary Mangan, leader of the congregation, said: "It was a wonderful memorial service of thanksgiving for our early sisters who were refugees. We celebrated their bravery – and that of Josephine, the young woman who brought them here. It was wonderful to be able to link with our 29 other communities worldwide for the Mass."
She says the congregation today shares the spirit of those early sisters. "They wanted to work with the poor and marginalised, in areas where no one else would be working, and we haven't moved from that."
She sees young women joining the order in Africa and Asia for that very reason. "I ask them what attracted them to the Order, and they say that when they were children, they would see sisters going into compounds and would say to one another, there is someone very sick in there.
"They respond to our work with the poor. And that goes back to the very beginning, when Fr Braun gathered a group of women at the railway station in Paris to meet and help women coming in from Alsace-Lorraine, often falsely promised employment by those wishing to traffic them into prostitution." That focus on trafficked people has not changed either.
Once those early sisters arrived in England, they opened several places in northern England and set about helping the poor, concentrating on areas of need. "Many sisters became nurses and teachers. We were pioneers in bringing in education for children with special needs and we are still involved with that in our different countries."
She herself made the decision to become a sister in 1962. "I remember very clearly saying that I wanted to help others. Although I enjoyed the social life of my teenage years, still there was an inner stirring and a desire to offer myself to the Lord, but I felt that I couldn't do it on my own. I needed the support of others to do this wholeheartedly." Sr. Mary left her home in the west of Ireland and joined the Sisters of the Sacred Hearts of Jesus and Mary in Chigwell.
Since then she has taught special needs children, worked over many years supporting women trafficked into prostitution, and developed a community service in Ireland for adults with special needs.
"As we have got older as a congregation we tend to support campaigns rather than do work on the ground, but we have someone who sleeps in a sheltered house once a week for women who have been trafficked, while others collect clothing for trafficked people," she says. "Sisters help in local areas in whatever way they can to relieve poverty, homelessness, and help the families of prisoners at Christmas and Easter. We are supported by the prayers and fundraising of our many Sacred Heart Companions in various parishes where our sisters served."
In Zambia, Uganda and The Philippines the Order still has professions every year but there are far fewer enquirers here in the UK. Looking back, Sr Mary says she was completely certain of the call to offer her life to God: "There are many more opportunities for people to help others as volunteers nowadays," she says, "but the call to religious life is still there but perhaps that inner stirring, that still small voice is not always listened to. We thank God for the witness of our Sisters since 1870 and we pray for all who are discerning their way of life be it religious life, priesthood, married or single."