The government has confirmed that collective worship can resume in churches and other places of worship when the national lockdown expires on 2 December. This decision applies across all three tiers of COVID-19 restrictions in England.
Bishop Alan Williams sm welcomed the move and has written to parishes to give further guidance and information.  He said: "Effectively, this is a return to the covid-secure protocols that existed in our churches at 5 November 2020."
The move to allow communal worship across all tiers is a response to the Church's active collaboration with the Ministry of Housing, Communities and Local Government and Public Health England in creating safe environments in church buildings, he said.
"It is important to emphasise that there should be no easing off on the applications of this good practice and that people must be encouraged to fully engage with what is asked of them."
The poster below represents what can/cannot be done in each tier and can be printed from this link:
https://www.gov.uk/government/publications/tier-posters-medium-high-and-veryhigh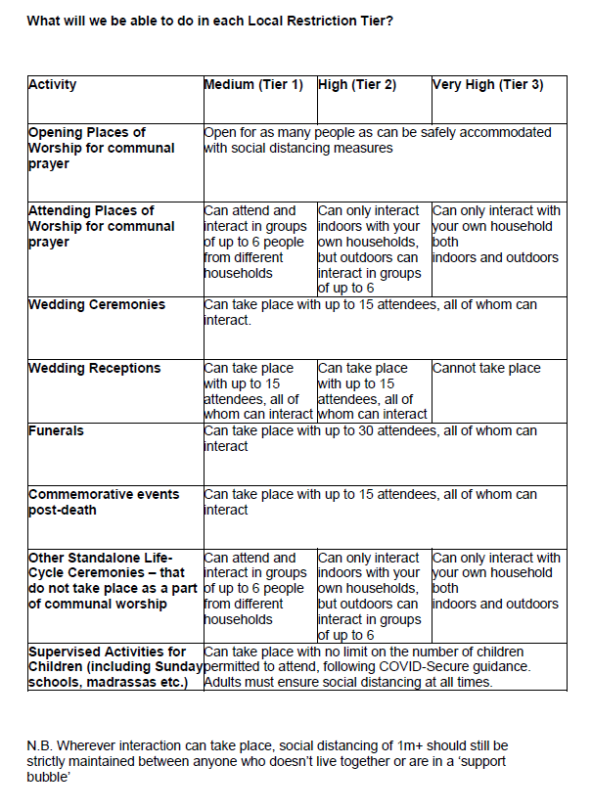 Communal Singing
There has been further research into communal/congregational singing . It notes that singing outdoors creates a lower risk than indoors and that any indoor singing should be mitigated against with good ventilation and the wearing of masks. There has been no direction to allow congregational singing from PHE yet, they are still doing research (especially on classification of buildings/population density within buildings) however the research completed so far indicates that well-controlled singing (music groups and choirs) could be permitted providing there is still social distancing and mitigations (screens etc).
Christmas Period
There will be a brief time-limited easement for families to join together over the Christmas period. Over this period, children will not be in school and fewer people will be in work and so there is increased transmission risk due this increased personal interaction.
He cited a resolution from the Bishops' Conference with regard to Christmas services:  'The Bishops' Conference recognise that Christmas is an important time for the faithful to attend Mass and that the current COVID-19 restrictions limit the number of people at liturgical celebrations for safety reasons. Since the Solemnity of Christmas has an Octave, the Bishops' Conference agrees to take a joint approach in encouraging the faithful to attend Holy Mass on any day during the Octave to enter into the mystery of the Incarnation.'
Bishop Alan said: "Presuming that appropriate government guidance is followed, I believe that
local clergy, in consultation with parishioners, are the best judges of what will work best in individual parishes."