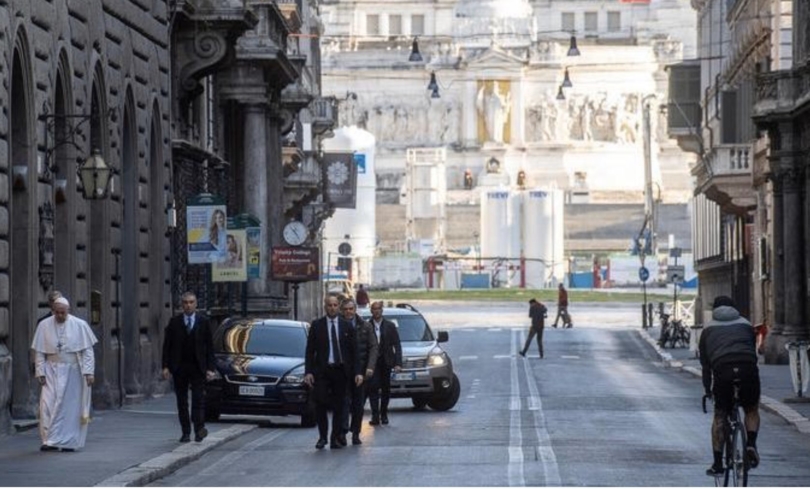 Both Pope Francis (pictured above on his way to pray for those suffering at two churches in Rome) and Cardinal Nichols have talked about the importance of protecting and caring for the vulnerable in our communities during the Covid-19 epidemic. So what should we be doing to help the elderly and vulnerable members of our own parish or wider community who may soon have to self-isolate or who are just worried and need reassurance. How as a church can we best keep in touch with them and support them spiritually and practically?
Many churches are reaching out to parishioners and others to care for them through pastoral support groups.
Live streaming from parishes around the diocese
Forest Gate:  https://youtube.com/c/stantonysFGUK
Loughton: 10 a.m. each day via Facebook: https://www.facebook.com/stedmundsloughton/
Royal Docks:  10 a.m. each Sunday
Access via YouTube channel 'Royal Docks Catholics' : https://youtu.be/YUoqJMb22A8
Billericay:  Recorded Sunday Mass.  Access via parish website: www.mostholyredeemer.org.uk.
Stansted: Live streaming each day except Tuesday https://www.facebook.com/StTheresaStansted
Eastwood:  Morning and evening prayer is streamed live 9:30am & 6pm respectively and daily Mass 11:30am.. All accessible on the St Peter's, Eastwood Facebook page: https://www.facebook.com/StPeterEastwood/
Walsingham House at Abbotswick: 10.30am each day – people will find it on the Instagram page BrentwoodCYS. They can send prayer intentions by commenting on the page at any time. Tips from BCYS: How to access Instagram BCYS.
Leigh-on-Sea: Monday – Thurs 9 a.m; Friday 12 noon; Saturday 10 a.m; Sunday Vigil Mass on Saturdays at 5.30; Sundays at 11.30. https://www.youtube.com/watch?v=Q1Qlx7NK3tU
Walsingham: 24 hour streaming which includes adoration, Mass and various talks and prayers during the day. http://walsingham.org.uk
Wickford: Access via parish website: http://wickfordcatholic.com/
Tuesday 7pm Devotion to St Anthony of Padua 7.30pm Holy Mass
Wednesday 9.20am Holy Mass followed by the Rosary
Thursday 9.20am Holy Mass followed by the Rosary
Friday 9.20am Holy Mass followed by the Rosary
Friday 7.30pm Stations of the Cross
Saturday 9.20am Holy Mass followed by the Rosary
Saturday 6pm Vigil Mass
Sunday 10am Mass
Hornchurch, English Martyrs: 9am weekdays and 10am on Sundays: https://www.youtube.com/channel/UChSsc6asw-XiZJwuKAxJ8TA
Ilford – Mass is streamed on https://www.churchservices.tv/ilford
Brightlingsea and Wivenhoe: a streaming service via Youtube, streaming Mass at 11am.
Our Lady and All Saints, Basildon (www.basildoncatholics.org) now has a dedicated Youtube channel streaming Mass, rosaries and prayers:  https://www.youtube.com/channel/UCK1wrejU7bleypfu2viputw
Chadwell Heath 11.00am Sunday Mass at St Bede is now streamed live: go to http://www.stbedechadwellheath.co.uk/  for a link.
South Ockendon is streaming Mass on Sundays and Solemnities at 10am. Sign up via Facebook at Holy Cross RC Church South Ockendon.
Manor Park (St Stephen & St Nicholas): youtube.com/channel/UCXkmUk78ejawBQmfX6zi1Xg
East Ham (St Michael's): youtube.com/channel/UCTNkco-Z9Lo4EgoRHzOHtJA
Chelmsford (Our Lady Immaculate) : https://www.youtube.com/channel/UChlkkivPXvddwvUOQzd9itA
Wanstead, Our Lady of Lourdes will be streaming Sunday Mass from 29 March at 11am from a new YouTube channel:
tiny.cc/OLOLE11
Coming soon: Hornchurch (St Mary's): youtube.com/channel/UCTqMwxA9yN1B_l-BuzAlHNg
Heavens Road Catholic online radio has prayers, reflections, Masses from 15 churches in England and Ireland: www.catholicradio.co.uk/Heavens_Road/Heavens_Road.php
The Independent Catholic News website is collating Masses and prayer resources at https://www.indcatholicnews.com
There is a daily short service of reading, reflection and prayer (9.45am) on BBC Radio 4 LW for those who do not have internet. Radio 4's Sunday Worship is broadcast at 8.10am. Radio 4 can be found on these frequencies: FM 92 – 95 FM, 103-105 FM. LW 198 Long Wave.
Meanwhile, the BBC has just announced that its Songs of Praise team, in addition to bringing you #Songsofpraise each Sunday, are also producing Sunday Worship @BBCOne – a simple church-based service each week at 11.45 beginning tomorrow at St David's Cathedral in Pembrokeshire.
The Tablet has published a list of useful online resources: https://www.thetablet.co.uk/news/12590/isolated-but-not-alone-resources-for-catholics
Further resources can be found here: https://www.godzdogz.op.org/godzdogz/spiritual-resources-for-times-of-isolation
Bishop Alan has written to parish priests to give them guidance in ministering to the sick. He says: "I have been greatly encouraged by efforts in local parishes to respond to this quickly changing situation.  Many parishes are already taking initiatives to help the most vulnerable in our communities. "
He also shared the following prayer:
Cardinal Hollerich SJ and Cardinal Bagnasco, Presidents of COMECE and CCEE respectively, have published a prayer for this time of infection with the COVID-19 virus for use in our communities across the continent of Europe. 
God our Father, Creator of the world, almighty and merciful, out of love for us
You sent your Son into the world as the doctor of our souls and our bodies,
look upon your children who, in this difficult time of confusion and dismay in many regions of Europe and the world, turn to you seeking strength, salvation and relief,
deliver us from illness and fear, heal our sick, comfort their families, give wisdom to our rulers,
energy and reward to our doctors, nurses and volunteers, eternal life to the dead. Do not abandon us in the moment of trial but deliver us from all evil.
We ask this of Thee, who with the Son and the Holy Spirit, live and reign for ever and ever.  Amen.
Mary, mother of health and hope, pray for us!
Meanwhile, the Liturgy Office of the Bishops' Conference has prepared Prayers for use during a time of 'flu and illness. The pdf below contains general prayers for health and also a note about Spiritual Communion and praying during Self-Isolation:
To see a podcast of Coronavirus advice from the Bishops' Conference advisor Professor Jim McManus click here: https://www.cbcew.org.uk/coronavirus-what-catholics-need-to-know-about-covid-19/