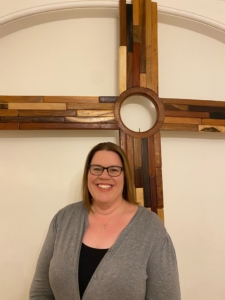 A Director of Youth Ministry has been appointed as part of a developing focus in the Diocese of Brentwood. It had planned to recruit both a new Director of Diocesan Youth Ministry and a Caritas Development Co-ordinator earlier this year but the recruitment process was delayed by Covid-19. Bishop Alan Williams sm is keen to increase staff capacity in these "essential areas of Diocesan ministry" and, after discussions with the Bishop's Council,  initiated a realignment of the Diocese's Vicariate structure. The Vicariate for Pastoral Formation has now become the Vicariate for Youth Ministry and Pastoral Care, and remains under the care of Fr Dominic Howarth, who will have oversight of the new staff, alongside his new role as parish priest at Romford.
Bishop Alan says: "There is no doubt that this Vicariate has every potential to build on the excellent work of the BCYS, Walsingham House at Abbotswick, and Caritas, in a way which provides immense and vital service across the Diocese."
Claire Bailey has been appointed as Director of Youth Ministry for the Diocese and will begin work in January. She has been part of youth ministry and education in the Diocese for many years. After completing a Theology Degree at Durham University she served for one year as a volunteer and then for four years as Assistant Manager at Walsingham House on Canvey Island (2001-2006). After that she trained as a teacher, taking her PGCE through Cambridge University and teaching at St Mary's, Bishop's Stortford, until 2009. Then Claire joined the Brentwood Ursuline Convent High School as full-time lay chaplain; over the last decade she has also trained in counselling, served as a Confirmation catechist at Brentwood Cathedral, Deputy Safeguarding Lead at BUCHS, and Diocesan Co-ordinator of School Chaplains.
Fr Dominic says: "With so much experience and many excellent skills to bring to our Diocesan Youth Ministry, I have no doubt that in this new role Claire will be a wonderful support to parish clergy, catechists and youth leaders, as well as school staff and chaplains. We have all had such a challenging and unexpected year; as we look forward to 2021, we hope and pray that our Youth Ministry can flourish in fresh ways, building on the existing strengths and finding new pathways to help our young people in discovering and rediscovering their relationship with Jesus Christ, and their precious place within the Catholic Church."
Claire herself said: "It is a privilege to have been given this opportunity to serve as Director of Youth Ministry for the Diocese. I am excited to begin in January and look forward to working with many of you in the future. Please do keep me and the work of the BCYS in your prayers."