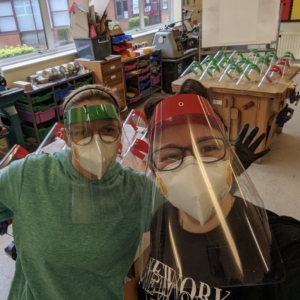 While many schools in the Diocese have been donating their science goggles and protective equipment to local NHS hospitals and surgeries fighting the Covid-19 epidemic, staff at the Sacred Heart of Mary Girls' School in Upminster have gone one step further. A teacher and a technician have been using their design and technology skills to actually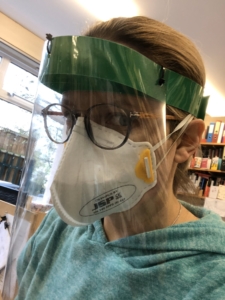 make protective facemasks for a local GP practice.
Lee Doe, subject leader for D&T at the school, says: "We wanted to do our little bit about the shortage of PPE. I belong to an online group of DT teachers and some of them had started making masks. We already had materials in stock so we sourced a design and tweaked it a bit." She and her 'amazing' technician Samantha Cadman worked out a production line, bearing in mind the need for social distancing, donned their dust masks and started work on their first batch of 34 last Monday. "It was
"A teaching assistant at the school had recently worked for a doctors' surgery so we messaged her to see if she knew of anywhere that might need the masks and that led on to the Havering GP Federation and our local practice."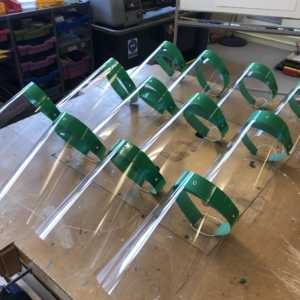 Now the pair are preparing to make more masks for people working at the local St Francis Hospice. "A family member was treated there so it is close to my heart," says Lee. "We have enough raw materials to make another 35 – and our suppliers are still able to make deliveries after that."
And they are not alone. She says hundreds of other schools across the country are activating their DT departments to make equipment. "Some have 3D printers that can be very useful – we only have two quite basic machines here. People are very ingenious and creative – and it shows what an important subject DT is."
Lee has been at Sacred Heart of Mary School for 11 years. "It is a very special place to work," she says.