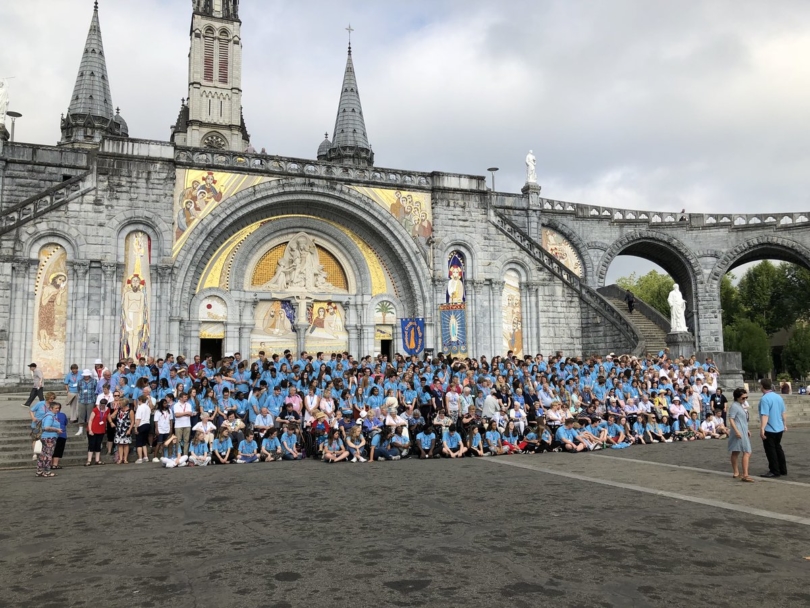 Fr Dominic Howarth and the BCYS team based at Walsingham House at Abbotswick are organising a virtual pilgrimage this month, entitled Lourdes in your Living Room. Normally, hundreds of pilgrims and young people would be travelling on the Diocesan Pilgrimage to Lourdes in July – but obviously that is not possible. Instead you are warmly invited to join Bishop Alan and pilgrims from across the Diocese in a full week of virtual pilgrimage including daily Mass, Rosary, Angelus, Morning and Night Prayer, daily reflections … and a talent show.
Says Fr Dominic: "'Lourdes in your Living Room' is just two and a half weeks away, and some wonderful things are happening. There will be 10 hours of pre-recorded content, and 14 hours of live content, which we hope will bring many of the different graces of a Lourdes pilgrimage to the homes of parishioners of all ages, immersing them in a true pilgrimage experience, even in these unusual and difficult times.
"We thank especially those parishes that are consciously linking those of different generations, so that young adults help those who are older with technology, preparing them to be able to access the pilgrimage. Where this can be done safely, this is wonderful work."
He added: "For the virtual Marian (Torchlight) procession we welcome photos of you, family members and friends, alone or together, holding a lighted candle. Please send these to [email protected] by  Sunday, 12 July. If you are a singer, dancer, joke-teller or entertainer, email us at [email protected] and we will help you submit your act for the talent show. For those aged 15-23 there is an additional social programme, and full details of the whole pilgrimage can be found at www.bcys.net, with links to YouTube."
The 18 hour challenge
To mark the beginning of the Lourdes week, young people are using the 18 hours they would be spending on the coach (and remembering the 18 apparitions of Our Lady to Bernadette) in a wide variety of creative ways – including 44 of them (and Fr Dominic) each walking 18 miles, together covering the distance from Brentwood to Lourdes.
Money raised will go to the BCYS and the CAFOD "Summer of Hope" Appeal. Sponsorship can be offered at www.bcys.net/donate or posted to Fr Dominic, 18 Hour challenge, Walsingham House at Abbotswick, Navestock Side, Brentwood CM14 5SH (cheques to "Brentwood Catholic Youth Service"). Fr Dominic concludes: "Our target is £1,800 and we are very grateful for all sponsorship."