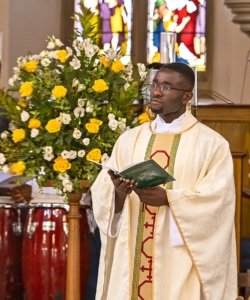 Our newest priest, Fr Paschal Uche, led the BBC local radio religious service last Sunday, 30 August. The service was heard across all 39 BBC local radio stations, with an estimated audience of half a million listeners. Fr Paschal only became a priest at the beginning of August – but he has some media experience to call on. He famously greeted Pope Benedict XVI on behalf of young Catholics during the Papal Visit to the UK and had to field a number of media interviews afterwards. He has been involved in large youth events such as Flame and has also recorded videos on his vocational journey and his role while a deacon. Most recently he impressed in a video – Being Black and Catholic – produced by the Diocese of Westminster (https://www.dioceseofbrentwood.net/news/watch-black-catholic/).
The BBC began to broadcast a series of church services in March 2020, following the decision by the Church of England and some other faiths to suspend services due to Covid-19. The idea was that a 'national wireless congregation' would be able to tune in at 8am every week to hear a service led by a leader from a different denomination, as a way of countering the isolation of the lockdown.
"Just because people are self isolating doesn't mean they have to feel isolated," explained Helen Thomas, Director of BBC England, back in March. "Local radio has a unique role as a community hub: disseminating information, airing views and being a constant companion to listeners, and this has never been more important than now. We hope this national wireless congregation will allow thousands, if not millions, of people to worship during this difficult time."
The BBC has also been working with other faiths, including Muslims, Jews, Hindus and Sikhs, to provide on-air spiritual reflections.
The initiative has proved popular and Fr Paschal followed in the footsteps of many illustrious others. The production team have worked with many different Christian traditions and personalities. Archbishop Justin Welby kicked off the series and later broadcasts have featured the Archbishop of York, Graham Kendrick, Tim Hughes and leaders from a variety of Christian church groupings.
The recording is available here: https://www.bbc.co.uk/programmes/p088lxpw