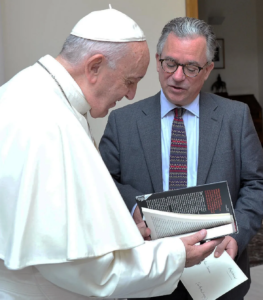 Fr Adrian Graffy, the man behind the popular Gidea Park study days, is delighted to be facilitating an online session this month with Dr Austen Ivereigh (left), Pope Francis' collaborator on 'Let us Dream: The Path to a Better Future'.  The book offers not just the Pope's reflections on the multiple coronavirus crises, but spiritual guidance on how to make use of the pandemic to build a better world, drawing on powerful episodes from his own life and a lifetime of leadership. Fr Adrian feels that it is important that people have an opportunity to hear those messages. "How should we move forward from the multiple coronavirus crises? Pope Francis among many other topics addresses the problems of human solidarity, the ecological crisis and the rise of populism."
He says: "Pope Francis puts his ideas on how we go forward after the pandemic and create a better world in a very accessible way. He believes that our relationships with God, with our brothers and sisters and with the created world are all important and are all linked – if we focus on creation and exclude human beings, many of whom are in trouble, we are missing the full picture. The Covid pandemic has arisen from human mismanagement of the world. And going back to where we were before will not change the world and provide for us and others."
Pope Francis views on vaccination as a moral duty are important to hear too, says Fr Adrian (right). "Our vision has to be bigger than just ourselves. This is the way to protect our brothers and sisters. And if the big countries buy up all the stocks and hoard them, the poor countries will not get any – which doesn't help anybody."
He concludes: "The issues raised in Pope Francis' little book affect us all, and our faith makes us well able to offer assistance on these crucial questions. These are things we should all be talking about."
Hear more on this from Fr Adrian in the video below.
Austen's talk will be streamed on Saturday 30 January via www.ssppilford.org.uk from 11 am until 12.30 pm. 'Let us Dream: The Path to a Better Future' is the first book written by a pope in response to a major crisis, and the first ever to be drafted in English – by Austen, his collaborator and biographer.
Austen Ivereigh is a writer, journalist and commentator best known for two highly regarded biographies of Pope Francis: 'The Great Reformer: Francis and the Making of a Radical Pope' and 'Wounded Shepherd: Pope Francis and His Struggle to Convert the Catholic Church'.
To access this livestream event, which will take place from 11 am until 12.30 pm, please go to www.ssppilford.org.uk and click on live stream remote services. The event, which is sponsored by Gidea Park parish in conjunction with Brentwood Interfaith, will be available subsequently on www.whatgoodnews.org
Questions for Austen may be emailed beforehand to [email protected]
Food for thought: Fr Adrian talks about 'Let us Dream'