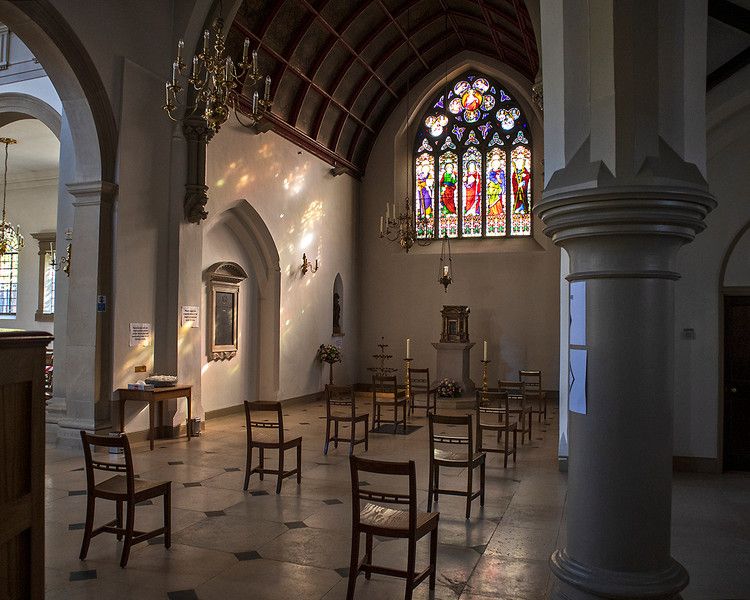 Following guidance from the Government and the Catholic Bishops' Conference, churches across the land have started to re-open their doors for private prayer. The initiative has required a massive effort involving risk assessments, demarcation and organisation of one-way systems inside the buildings, the recruitment of volunteer stewards to ensure social distancing and safety, deep cleaning of churches and the procurement of additional cleaning supplies, hand sanitiser and PPE.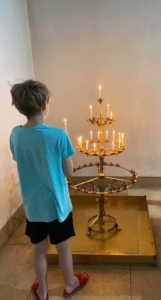 The Cathedral Parish opened for private prayer on Monday 15 June and thanks to the generous response from parishioners, has enough stewards to open from 9am to 7pm every day. Guidelines are stringent, however, in order to minimise any risk. Entry is via the narthex and exit via the Door of Mercy behind the choir stalls. Those praying are guided to the Blessed Sacrament Chapel only and must sanitise their hands on entry and exit.  The toilets and main body of the Cathedral are out of bounds.
In his letter to parishioners, Fr Martin Boland said: "In the Blessed Sacrament chapel, before our Lord, let us open our hearts, lay down our burdens and griefs, and pray for the healing of our world. Silent prayer and adoration before the mystery of Christ, present to us in the Blessed Sacrament, is where we receive the grace to grow in love of Christ and to experience His merciful love for each one of us. We have longed and prayed for this moment.  Now it is here.  We have much to thank God for. We are no longer to live as exiles.  With great care, we are slowly making our way back and we will find that Christ is waiting for us, His sacred heart open to each one of us.  His true and real presence alive to us in the Blessed Sacrament.
Elsewhere in the Diocese, other churches have also re-opened for private prayer or are preparing to do so soon. In some, it may not be practical to do so, however.
In Chelmsford, Our Lady Immaculate and Holy Name, which are cared for by the Norbertines, re-opened on Monday 15 June. Abbot Hugh Allan said: "It's been so wonderful to see people in church again."
St. Vincent's, Becontree is planning to re-open on Sundays from 9am to 11am.
Saint Cuthbert's, Burnham on Crouch will be open from Thursday 25 June on Thursdays from 12 noon to 1pm and on Sundays from 11.30am to 12.30pm.
Our Lady Immaculate, Chelmsford  is open every day 11am-1pm and 5pm-7pm.
Holy Name, Chelmsford is open 7-8pm Monday, 9am-10am Thursday, 10.30am-12noon Sunday.
Our Lady of Light & St Osyth, Clacton on Sea will be ready to open by 27 June from 10.00 to 14.00 on Saturdays.
St John Vianney, Clayhall, re-opened on Tuesday 16 June for private prayer and devotions. It is open from 9am to 10am Tuesday to Saturday and from 9am to 12 noon on Sundays. The church porch (narthex) remains open until 12 noon Tuesday to Saturday.
St James the Less and St Helen, Colchester has now re-opened daily for private prayers at the following times: 10am-11am and 7pm- 8pm.
Corpus Christi, Collier Row is open on Sundays: 9am to 12 noon; Monday to Saturday: 9am to 12 noon and 3pm to 6pm.
St Alban's, Elm Park will be open every day from 10am to 12 noon and 6pm to 7pm.
St Antony of Padua, Forest Gate re-opened on Friday 19 June for private prayer. It is open on Sundays, 4pm to 7pm; on Tuesdays, 12noon to 3pm and on Fridays, 4pm to 7pm.
Sacred Heart and St Francis, Frinton and Our Lady Queen of Heaven, Dovercourt are open from Monday 22 June (Dovercourt: Mon, Tues and Fri 12 noon to 1.30pm; Frinton: Wed, Fri and Sat 1.30pm to 3.00pm).
St Thomas of Canterbury, Grays will be open for private prayer from 28 June on Sundays from 1pm to 3pm and Wednesdays from 5.30pm to 7.30pm.
The Holy Spirit, Great Bardfield will be open on Tuesdays and Saturdays from 23 June, between 10 and 11am.
Our Lady & St Anne Line Church, Great Dunmow will be open on Sundays between 11-12 from 21 June, after a very successful re-opening on Friday 19 June.
St. Francis of Assisi Parish, Halstead, is planning to open on Sunday between 9am and 11am in the first instance.
Church of the Assumption, Old Harlow is open on Sundays from 11am to 12 noon and Tuesdays and Thursdays from 10.30am to 12 noon.
St Mary Mother of God, Hornchurch will be opening on Thursdays and Sundays from 11am-1pm.
SS Peter and Paul, Ilford will re-open from 21 June on Wednesdays and Sundays, 10am to 1pm.  A mock stained glass window installed in the side chapel has been dedicated to those who have died from Covid-19. https://www.dioceseofbrentwood.net/news/ilford-church-dedicates-prayer-space-died-virus/
St Mary Immaculate and the Holy Archangels, Kelvedon will be open 10-11am  on Thursdays and Saturdays and St John Houghton, Tiptree from 11-12 noon on Fridays.
Our Lady of Lourdes and St Joseph, Leigh-on-Sea is open from 11am -1pm each day Monday – Saturday.
St Teresa of Lisieux, Lexden is currently open on Wednesday morning 10am to 11am, Friday evening 7pm to 8 pm and Sunday from 3pm to 4pm.
St Joseph's, Leyton is now open for individual prayer on Mondays, Tuesdays and Wednesdays from 10am-12 noon; and on Thursdays and Fridays from 6pm to 8pm.
Assumption of Our Lady, Maldon is open on Mondays from 10.30am to 12 noon and on Thursdays and Saturdays from 4pm to 6pm.
Our Lady of Ransom, Rayleigh, will be open on Saturdays 5.30-7pm, Sundays 8.30-10am and Wednesdays 8.30-10am.
Saint Teresa of the Child Jesus, Rochford will be open on Tuesdays and Thursdays between 6.30pm and 8.30pm; and on Wednesdays and Fridays between 8am and 11am.
St Ed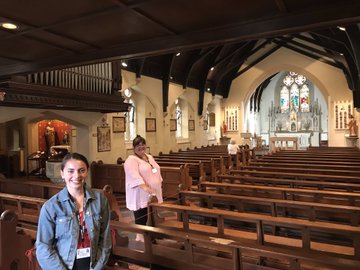 ward the Confessor, Romford, (pictured right) opened from 17 June on Wednesdays from 11-2, Saturday from 10-2 and Sunday from 12-2.
At Our Lady of Walsingham, Royal Docks parish, St Anne's is open Monday to Saturday from 8am-10am and on Sunday from 3pm to 5pm.
Our Lady of Compassion, Saffron Walden will be open on Tuesdays and Thursdays from 11 am – 12 noon, starting on the 23 June.
St. George's, Shoeburyness, will open on Monday for private prayer and reflection, from 10am to 1pm, Monday to Friday; Saturday 4pm until 6pm; Sunday 10am until 12 noon.
The Holy Cross, South Ockendon, is open on Monday, Tuesday, Thursday and Friday from 9.30-11am and on Sunday from 11am-12.30pm.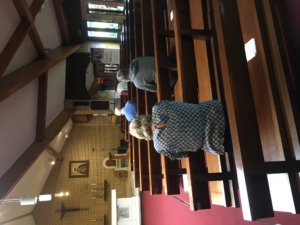 Our Lady and St Joseph, Stanford-le-Hope (right) is open for private prayer on Mondays and Thursdays from 9am to 12 noon and on Sundays from 2pm to 5pm.
St Theresa of Lisieux, Stansted Mountfitchet is open on Tuesday, Wednesday, Friday, Saturday and Sunday for private prayer from 1pm to 3pm. Those over 70 years of age and people with underlying medical conditions can access the church on Monday and Thursdays from 11am to 12 noon.
Our Lady Star of the Sea, Tilbury will be open every weekday from 9am to 12 noon, on Saturdays from 4pm to 7pm and on Sundays from 10am to 12 noon and 2pm to 5pm.
St Joseph's, Upminster re-opened from 18 June on Thursdays and Fridays from 10am to 1pm and Sundays from 9am to 12 noon.
Our Lady of Lourdes, Wanstead will be open on Tuesday 10am to 12 noon, Friday 7pm to 9pm and Saturday 10am to 12 noon.
St Cedd and St Gregory, West Mersea will be re-opening from 21 June from 8.30am-9.30am.
The Holy Family & All Saints, Witham will be open on Monday, Tuesday, Wednesday and Friday from 10.30am to 12 noon and on Thursday at 3.30pm to 5pm. On Sundays the church will be open from 11am to 12 noon.
St Thomas of Canterbury, Woodford Green is open for private prayer during the following times: Tuesday 10am  to 12 noon; Thursday 2pm to 4pm; Saturday 10am to 12 noon.
St Peter's, Eastwood is undergoing a complete deep clean by professionals with carpet tiles removed and concrete floor washed and sealed. Parish priest Fr Jeff Woolnough hopes to be able to open for private prayer by the first week of July.
St Francis of Assisi, Stratford – the Church is still closed and not open  for individual prayer. Fr Michael says: "We are working towards the time when the Church will reopen safely for mass but we do not have a date for reopening at present."
This list will be regularly updated as parishes complete preparations.
Part of Fr Gary Dench's guide to the Cathedral and the measures we have put in place for its reopening for individual prayer on Monday 9.00 a.m. – 8.00 p.m.

For more information go to https://t.co/rcU5usLoIv pic.twitter.com/qsa2Bsa9KY

— Cathedral Brentwood (@cathedralb1) June 13, 2020
Enjoy Graham Hillman's fantastic pictures of the re-opening day at Cathedral