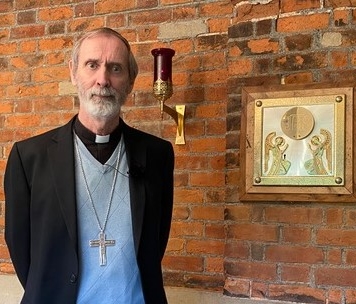 A special Mass took place on the Feast of Corpus Christi to honour and pray for 3,000 plus children due to make their first Holy Communion this summer, as well as to pray for the catechists, parents, priests and teachers who accompany them. The Mass, which was streamed from Walsingham House at Abbotswick, included a special message from Bishop Alan, intercessions read by First Holy Communion children from Blessed Sacrament Chelmsford, St Edward the Confessor Romford, St George's Shoeburyness, Our Lady of Compassion Saffron Walden, and Our Lady and All Saints Basildon, and music from children's choirs including the choir of St John Fisher Loughton, St Helen's Brentwood, St Anne Line Junior and the Brentwood Cathedral choirs.
In his homily, celebrant Fr Dominic Howarth talked about the phrase: 'You are what you eat'.
"If you eat green vegetables, carrots and fruit, for example, you will be radiant," he said. "So what about our Holy Communion? We are eating something that in our Mass becomes truly Jesus. If we receive Jesus in Holy Communion we become more and more like him."
He explai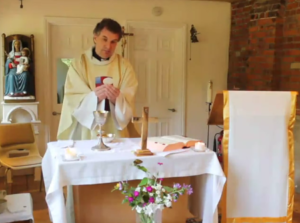 ned that the plain looking host is flat because it is baked with no yeast to remind us of the bread the Jews baked when getting ready to leave Egypt the night of the Passover. "It is what Jesus was remembering with his friends the night before he died."
Once consecrated, the host will look no different and taste no different, he said, but it can make a real difference to our lives.
"Little things can make a big difference.  Smile at someone and it's almost impossible for them not to smile back. Think about what you can do to make a difference today – perhaps a drawing for someone in your street – as Mother Teresa said, 'Do small things with great love'."
He added: "If those little things can make a difference, so can this little piece of bread when it becomes Jesus in Holy Communion – it is a burst of pure love entering our bodies and our hearts. It's Jesus giving us his very self, his glorious, forgiving, loving, kind, caring, brilliant self – inspiring us to wonderful things."
Sadly, he added, many of us haven't received Holy Communion for a long time because of the Covid-19 virus. "When we receive Holy Communion truly, whether for the first time or after a long wait, we become what we receive – we become closer and closer to Jesus. This little host transforms our lives."
He quoted Saint John Paul II's words: 'Holy Communion is the secret of my day – it gives strength and meaning to all my activities'. "When you next receive Holy Communion use that prayer and until then do small things with great love."
Watch the Mass on Youtube here: https://www.youtube.com/watch?v=UYbigOMOFJU
Bishop Alan's message to the children