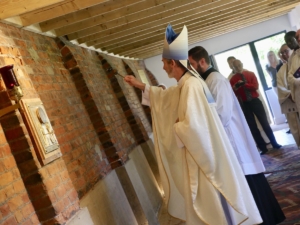 Bishop Alan is to concelebrate and preach at the Good Shepherd Mass at 10.30 am this Sunday, livestreamed from Walsingham House at Abbotswick. He says: "My homily will be especially for young people across the Diocese who are Confirmation Candidates as this would have been the day I met them at Brentwood Cathedral. As it is Good Shepherd Sunday this is also a natural moment to focus on the vocations, with encouragement to young people to use this time to discern ever more deeply who God is calling them to be."
Read more about vocations in our diocese here.
The livestream is via Instagram and YouTube. Details about the Mass, including how to access Instagram, are at https://bcys.net/events/confirmandi/.