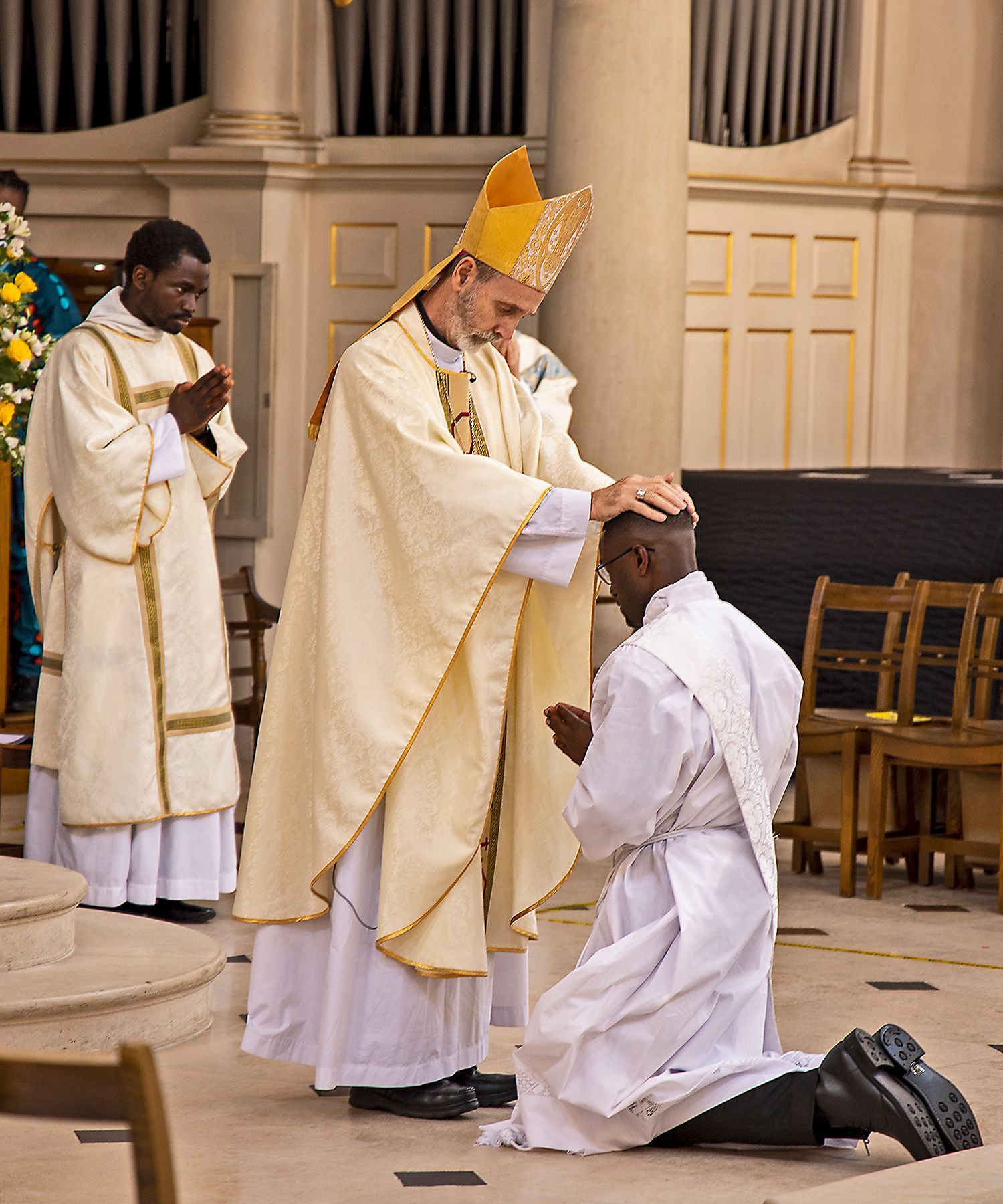 Masks were de rigueur and hand sanitiser frequently used – but that did not detract from the ordination of Fr Paschal Uche in Brentwood Cathedral on 1 August. The service featured music from a cantor and drummers from the Blessed Cyprian Tansi Choir, reflecting his family's Nigerian heritage, and from friend Edwin Fawcett, renowned for his music ministry in East London. The small congregation included family members – sadly, the Covid-19 situation meant that Paschal's father Jerome was watching the ordination from Nigeria – and certain members of the clergy who had shared his journey. His immediate family all dressed in white, while the musicians wore traditional dress. His mother, Francesca, and sister, Blessing, read the first reading and sang the psalm respectively.
Fr Paul Keane, a priest of Brentwood Diocese and Vice Rector of Oscott where Paschal has been a seminarian, testified to his 'worthiness' to be a priest, recommending him to Bishop Alan on behalf of all those concerned with his training.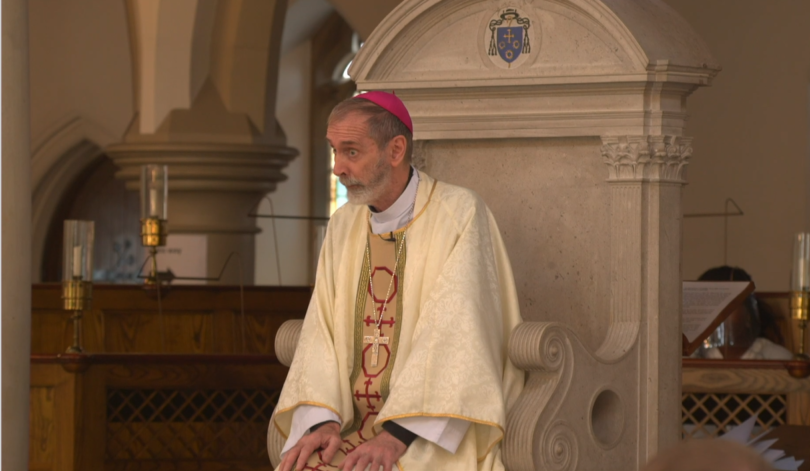 In his homily Bishop Alan spoke about priesthood and what it might hold. He spoke without notes but very obviously from the heart to a young man he knows well. Although so many were watching via the livestream it seemed almost as if the two were in a room by themselves: a spiritual father speaking to a son. "The first part of this conversation is just me talking to you – the others can listen in if they want to." Bishop Alan spoke of his joy in the ordination and appeared moved at times as he reflected upon it.
He spoke about the sense in which Paschal was consecrating his priesthood to Mary with his attachment to Walsingham and Lourdes – the picture on his order of service and prayer card reflected this. "It is almost as if you have two mothers here today – Francesca and Our Lady."
He talked about calling, referring to the reading from Jeremiah. "Jeremiah thought himself not ready, not suitable, just as we might – but the key is to accept that we are chosen. The supreme example of someone who said yes is Mary, the Mother of God. Talk to her if you feel unsure of anything," he said. The Letter to the Hebrews had much to say about priesthood of Jesus Christ and what that means, he added. He spoke about both the joys and the challenges of the vocation. "Priesthood is a life with Jesus. When a priest celebrates the sacraments, it is heaven meeting earth."
He said that Paschal should have courage and joy in preaching the Gospel.
"Keep your eyes fixed on Jesus – the model priest – and don't allow yourself to be distracted. Like Jesus, deal gently with people. Never let there be a time when you forget that the grace and mercy of Christ is transforming. There may be times of challenge, when you think 'what on earth is going on?' – difficult situations. In the midst of suffering, a priest goes to the cross with Christ. A life with Jesus means service with Jesus, prayer to the Father, suffering and passion. But try to think with a mind like Jesus and the body and blood of Christ will be present through you." The Gospel reading from John tells us to love one another, he said.  Quoting from Julian of Norwich, he added: "We think of the cross, the passion, the tomb of Jesus and love is his meaning."
Later Paschal lay prone on the marble floor before the altar for many minutes before the laying-on of hands. In normal circumstances, this would have been undertaken by all the priests of the diocese: on this occasion just Bishop Alan, Mgr John Armitage and Fr David Donaghue, a friend who also trained at St Mary's Seminary, Oscott, laid their hands on Paschal's head. Then his own hands were anointed with the Oil of Chrism by Bishop Alan.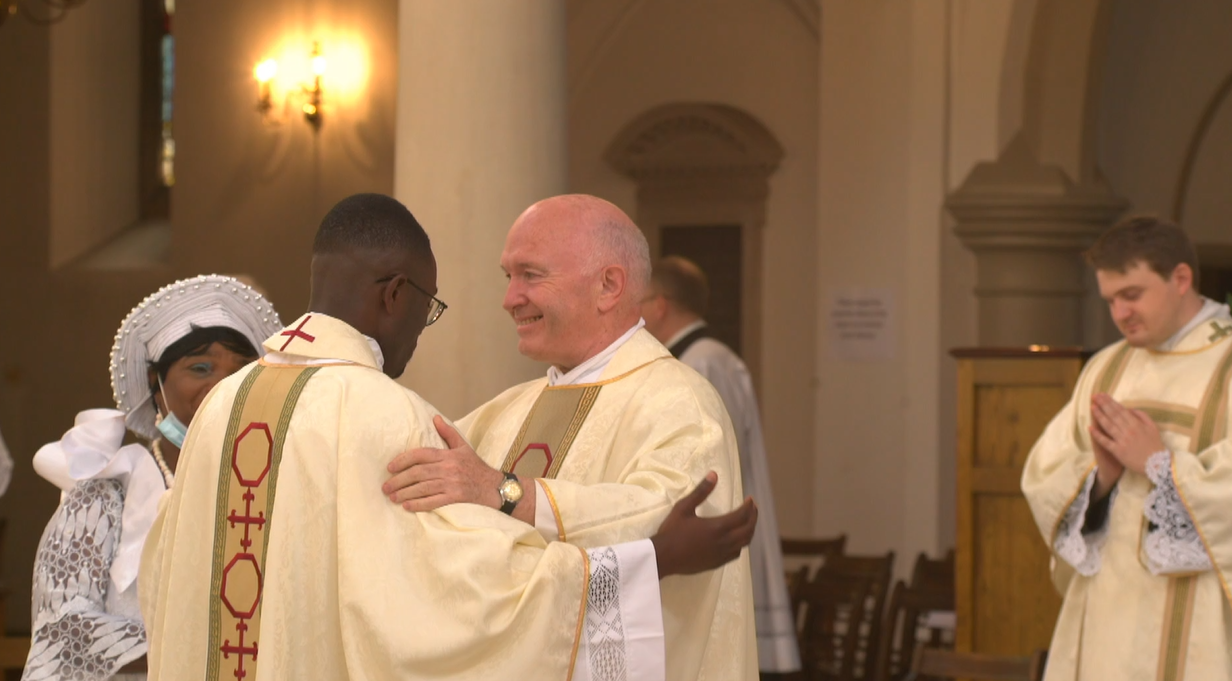 When Paschal's mother, Francesca, brought the vestments to the altar for the newly ordained priest, an old friend was on hand to assist. Mgr John Armitage, a significant mentor and guide in Paschal's journey to priesthood, helped him to vest. It was a poignant moment: Mgr John smiled broadly; as the congregation broke into a cheer, Paschal wiped away tears.
Following the Communion rite, he gave the Eucharist to priests and family, the first being Fr Paul Keane.
At the end of the service, Bishop Alan read a letter from Pope Emeritus Benedict – who had been greeted by Paschal on behalf of young Catholics during the Papal Visit of 2010. In it Pope Benedict expressed his joy at the ordination, promised to pray for the young priest and commended him to Mary, the mother of Christ.
Bishop Alan referred to the retired Pope's great theological expertise and his many writings on priesthood, quoting "A priest is a man for others, not for himself".
Fr Dominic Howarth, who was Vocations Director when Paschal discerned his calling, has worked closely with the young man through the Brentwood Catholic Youth Service, attending World Youth Day and Lourdes, Adoremus, Invocation and Flame in his company. He said: "We wish him many blessings. His faith, smile, preaching, service and joy are a gift to BCYS and we pray for him and all those for whom he will illuminate the love of Christ in the years ahead." He commended Paschal for his 'radical calm' throughout his unusual ordination, noting his serenity, radiance and joy.
"I know that Paschal has a gift of communication that speaks wonderfully well to people of all ages. I look forward to him working with young people and ethnic minorities and inspiring them with his story and his journey."
Referring to the challenges mentioned by Bishop Alan, he said: "Paschal's own faith and strength will be needed to sustain him in these unpredictable times – in a world of pandemic and growing secularity."
Many others in the diocese will know Paschal: he works each year at the SVP's St John Bosco Camp, which provides activity holidays for children, and travels to Lourdes with the HCPT Group 161 from Our Lady & St George Parish, Walthamstow. And he is very involved with Youth 2000, regularly speaking at its Walsingham conference.
Outside Fr Paschal gave the traditional first blessings to Bishop Alan and other clergy and before the drummers and guests began a dance of celebration.  Bishop Alan said: "It has been a wonderful occasion under strange conditions. A real experience of joy and celebration of God's blessing upon us."
Paschal himself said afterwards: "I felt emotional all the way through – the significance of what was happening and what it meant for me was overwhelming. I was filled with joy. I found the intimacy of the conversation with Bishop Alan very moving. It was so personal – he was looking at me and two or three times broke off and was silent. It felt as if the Lord was taking part too as Bishop Alan reflected on what to say to me.
"He told me to be prepared because suffering is a reality. He said that Christ is the pioneer and perfector of our faith and that I should always keep my eyes fixed on him. The quote from Julian of Norwich about love being his meaning was beautiful."
"I felt that the occasion was so much bigger than us – it was about the universal church. The connection to the Papal Visit with the letter from Pope Benedict was a lovely thing to have happened. Those are the things you hold on to. When I greeted him all those years ago, I told him in a private moment that I was thinking about priesthood and he said he would pray for me. I wrote to him twice about the ordination and had no response but when my mother wrote, a reply came. It was a bit like the miracle at Cana!"
The following day, the newly ordained priest said his first Mass at Our Lady of Lourdes, Wanstead, where he has been working over the summer. He was flanked by six other priests and assisted by his friend Fr David. Canon Pat Sammon, parish priest, said it was wonderful to see so many present and extended greetings to family watching from Nigeria. "Please pray for Fr Paschal on this great occasion. My heart is filled with joy."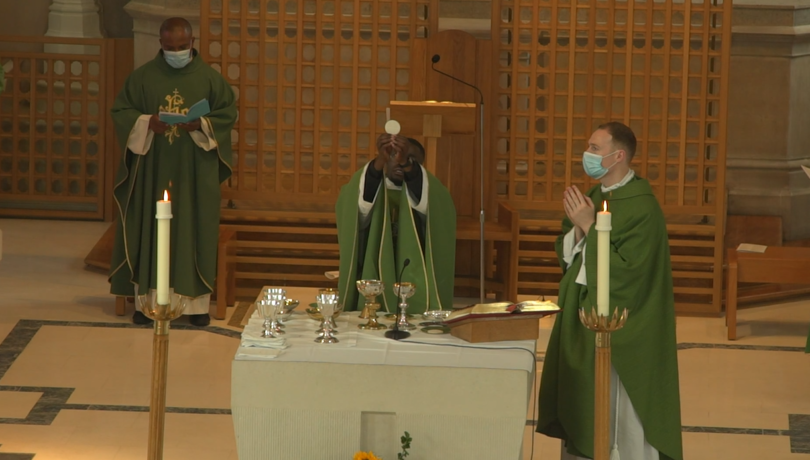 Fr Paschal dedicated his first Mass to his grandparents, "who had passed on the faith over the generations". He said: "It is great to be able to celebrate Mass with you after the joy of yesterday. Just as a wedding brings families together I had a sense that an ordination does the same thing – bringing the family of the church together. Nothing can separate us from the love of God."
Fr Albert Ofere, the priest who had inspired him as he grew up, gave the homily. He said: "An ordinary man is chosen by God to make Him known among us. Paschal did not lie down on the marble floor yesterday because it was comfortable or because he was tired – he did it in obedience to God and a love that serves. The world desperately needs those who lay down their lives in priesthood, who give away everything but gain so much. We rejoice in the gift of priesthood."
Addressing Fr Paschal, he said: "What a time to be ordained: the world is rent by Covid, people have died, people are grieving, people can't breathe; the economy is a shambles; there is so much anxiety and fear. This is the world you are called to minister to, Paschal. You are the one to help people. Your whole identity has been subsumed into that of Christ. You speak in his voice. Through your ministry God will give refreshing breath to his people. Your 'loaves and fishes' are your personality, your energy, your youth, your beauty, your voice. Your whole life is given to God."
Referring to the words of St John Vianney, he added: "You will experience the deep joy of bringing the sacraments to people, sharing their tears and joy, comforting and talking to them. In a priest, the people of God find Jesus Christ. How great is a priest!"
He advised Paschal to "be a man of prayer, to seek solace in the Holy Eucharist, to spend time in adoration. In the name of Jesus you will work wonders through prayer". His words echoed those of Bishop Alan during the ordination the day before. "Have the heart of Jesus – be loving, friendly, diligent and humble. Humility will attract God's favour. Stay close to our blessed mother Mary who will keep you safe. Let her fiat be a model for you."
He said Blessed Cyprian Tansi, the Nigerian priest who became a Cistercian monk at Mount St Bernard Abbey, Leicestershire in 1950, would have been overjoyed by the ordination. "Emulate him and excel in everything you do to the glory of God. You are a priest forever in the line of Melchizedek. Nothing can come between you and the love of Jesus Christ."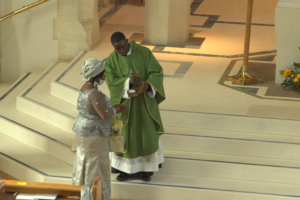 After the Mass Fr Paschal presented his mother with the cloth that had bound his anointed hands during the ordination. He talked of her sleepless nights when he first announced his desire to be a priest – as her dreams of seeing him with his own children evaporated. He also talked of the joy he felt when she held him, in tears, after his ordination. "This cloth will be buried with you," he said with a break in his voice, "and you will be able to say to the Lord that you gave him your son. I am so grateful that you did so with your blessing."
You can watch the ordination under recordings on http://ssppilford.org.uk/wp2/live-stream-church-services/
Thanks to Paul Samuels of Ilford Parish for streaming the ordination and Graham Hillman of the Cathedral Parish for his wonderful pictures.
Ordination pictures
Graham Hillman and Paul Samuels