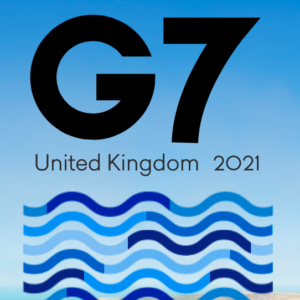 The G7 Summit 2021 
The G7 Summit, which is to take place in Cornwall this month, is the annual meeting of the Group of Seven leaders. It is an inter-governmental organisation made up of the world's largest developed economies: France, Germany, Italy, Japan, the United States, the United Kingdom, and Canada. Invitations are extended to the EU, the UN, China, India, Mexico, Brazil, Australia, South Korea and to the leaders of the World Bank and the International Monetary Fund. It is to take place from 11-13 June in Carbis Bay, near St Ives.
Besides the ongoing challenges presented by the COVID-19 pandemic, leaders are expected to address trade, climate change, and technological changes.
CAFOD sees this event, along with COP26 in November, as a vital opportunity to make our voices heard on some key campaigns: tackling the climate crisis; ending unjust debts; and holding business accountable. It is asking all of us to get involved to bring about a fairer world post-pandemic.
CAFOD says: "The decisions taken in these two meetings will affect millions of people around the world. As host, Britain is in a unique position to exercise global leadership in the journey towards a greener and fairer world after the pandemic."
It is inviting Catholic parishes to organise a virtual meeting with their local MP, to discuss how to rebuild from the pandemic in a way that tackles the major global issues of our time, including climate change and unjust foreign debts. Read guidance here: ROCH_Booklet_ Parliament_ In_your_ Parish- 2021
The public are also invited to make comments via The G7 Official Page. The email address for your comments is: [email protected] 
Point out that the G7 members must:
Commit to ending destructive and polluting businesses and agriculture
Promote sustainable businesses and agriculture
Commit to zero carbon emissions