Young people from the Diocese of Brentwood made a big impression at the Million Minutes' Celebrating Young People Awards at the Curzon Soho Cinema in Shaftesbury Avenue, London last week, winning accolades in four of the six categories and gaining highly commended in several others. The awards, which were attended by His Eminence Cardinal Vincent Nichols and Baroness Sheila Hollins and other dignitaries, bring together hundreds of young people, youth workers, teachers and supporters from across England and Wales "to honour the achievements of truly remarkable young people who make our communities and our world a better place". Million Minutes espouses the principles at the heart of Catholic social teaching – the principles of dignity and equality, of service to the poor and the oppressed, of care for the world and the promotion of peace and solidarity – and the awards celebrate the practical application of those different aspects.
Danny Curtin, the CEO of Million Minutes, said the judging panels were "very impressed by all the young people nominated" in this fourth year of the awards.
Cardinal Vincent Nichols presented the Pope Francis Award to 24-year-old Hannah Forrest who is a volunteer ship visitor for Stella Maris (Apostleship of the Sea) in Plymouth. Cardinal Nichols congratulated her, and the other young people present, telling them that he was so proud "to see and sense the vitality of the faith of our Church embodied in so many of the young people gathered tonight". He added they "have so much generosity and verve for life".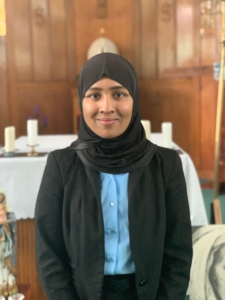 The London end of the Diocese of Brentwood was well represented in the awards. Eighteen-year-old Jehanut Bari at St Angela's Ursuline in Forest Gate won the Dorothy Day Award for fostering community and participation. This award recognises young people engaged with those around them, making their community a better place for all.
Jehanut is Muslim and started at St Angela's very unsure about how the Catholic community would interact with her. Yet she threw herself in, participating in many school events both taking the lead or as part of the organising committee.
Jehanut was nominated for the award for her role as a Chapel Angel. She helps her school chaplain clean the chapel, come up with ideas and works hard to organise groups and meetings so that every initiative they embarked on is a success.
Her chaplain said: "Truly, I have not come across anyone who was so super-enthusiastic as Jehanut. She finished being a Chapel Angel recently by organising the Year 7s' reconciliation services. Yes, even the priests in the deanery sometimes found it odd that someone in a hijjab is ushering girls and guiding them in the sacrament of reconciliation – but they soon got used to it. She is Muslim but also a Catholic role model!"
Molly Christie was highly commended in the same category. In a relatively short amount of time Molly has become a key member of her local Rainham parish community. In 2017 she started helping out at her local youth club aged sixteen and since then she has helped in all the youth programmes the church has including the youth band, Confirmation and youth formation. She even helps to put on social events for the whole parish, like the New Year Dawn Breakfast. Molly does a lot of behind the scenes preparation for various church services, learning from others and always available to help.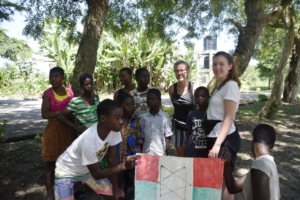 She took part in a trip to Ghana in the summer to help run a summer camp for local children and improve the communication and relationship between the parish and the project the parish is supporting there. Her commitment and the gift of her time has been important to the parish. She is an example to younger children who don't often see themselves reflected in the people working in the parish, and she is an important link with the older generations with whom she has fostered good relationships which have helped to dispel some opinions that older people had of young people.
Her nominator said: "Molly's faith is an important aspect of who she is and what she gives to the church. She is not afraid to challenge the status quo, whilst also being able to support younger people who may have questions or doubts. I feel she embodies Pope Francis' exhortation to 'journey together, young and old'."
The Jimmy Mizen Award, which recognises young people who have shown a firm and persevering commitment to the common good or peacemaking, was awarded to Shanea Oldham of St Bonaventure's, Forest Gate. The 18-year-old was spurred into action after a teenager was stabbed in her neighbourhood. She went to help him as he was lying in the street and the experience left a huge mark on her. She vowed to put an end to the increasing amount of violence in Newham.
She began working as a liaison between the police and young people to improve stop and search perceptions. She has taken part in marches and rallies, and worked to create a dialogue between youngsters and decision-makers in Newham. Her calm, authoritative and knowledgeable manner, along with her passion and drive, impresses everyone she meets. She is determined to bring about change and reduce the fear amongst teenagers on the streets.
Her holistic approach to the issue of youth safety has seen her take a direct, no-nonsense approach, even arranging for a Red Cross instructor to come in to provide First Aid Training to 6th Form students in school to enable them to deal with stab injuries and potentially save a life. Her teacher said: "Shanea is a passionate young person, whose work is appreciated not only in her local community in East London, but nationwide and by the Church."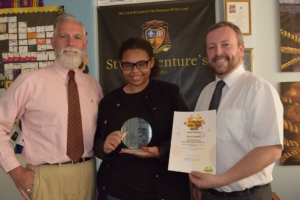 Outgoing headteacher at St Bonaventure's, Paul Halliwell (left with Shanea and incoming head Christopher McCormack), added: "These awards are a fantastic way to celebrate different aspects of Catholic social teaching lived out in social action. Shanea really deserves the Jimmy Mizen Award as she is determined to bring about change in our community and really wants to make Newham a safer and better place for youngsters. I feel very proud and I feel Shanea's award is testament to the way our students are socially aware and involved in the community. They are really tuned in and aware that they play a vital role in changing hearts and minds."
Brentwood's Kezia Harrow (19) was part of CAFOD's Holyland Travel Group, which was highly commended in the Jimmy Mizen Award category. In 2019 Caroline, Juliette, Kezia and Sharon visited the occupied Palestinian territory (oPt) as part of their overseas experience with CAFOD during their Step into the Gap placement. On their return the group shared their experiences with over 9,000 people across the country who otherwise would not know about the issues in the Holy Land.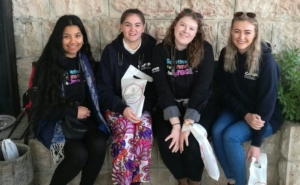 They have shared workshops in schools encouraging how a change of approach around the world can bring about solidarity and peace. They have supported young people to write their own messages of peace and developed a photo project, to encourage staff, volunteers and students to share a message of solidarity. Caroline also organised a fundraiser during Lent, running 5k every day for 40 days, clocking up the distance of the wall that separates the two territories in the West Bank.
The group's nominator said: "The group share the work that they do because of their faith. The realise that Jesus in the Bible calls for us all to be peacemakers and whilst they realised they can't drastically change and improve the lives of the people they met in the Holy Land, they can put their faith into action by sharing the stories of the people they met and raising awareness of the lack of peace in the area in the hope that others will also raise awareness."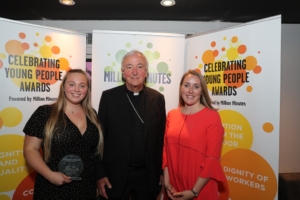 Meanwhile, 18-year-old Christy Downer from New Hall School in Chelmsford, received the St Josephine Bakhita Award which recognises young people who have enabled others to live a life of dignity.
Christy won the award for her weekly service to the Shaftesbury Group, which welcomes 30 adults with learning disabilities from across the community. The get together has a big impact on those who regularly attend. Christy's teacher said: "Christy listens to the guests, plays games and shares the good news of the week with them. She is always the first to arrive and the last to leave which is testament to her commitment. On top of studying for her A-levels, Christy, without fail, finds time in her week to give to others.
"She has thoroughly engaged with the Catholic ethos of New Hall School and is exploring her own relationship with prayer and faith with regular conversation and daily visits to our school Chapel. She is very aware that the Shaftesbury Group she leads is intimately linked with the Catholic principles of service and upholding the dignity of each individual person."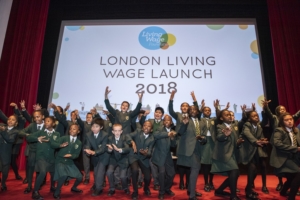 The Joseph Cardijn Award recognises young people who have stood up for the rights of workers and students, helped people into work, or shown leadership among their peers or colleagues. It was won by Ethan Nkonge (11), Zeruiah Adomako (11), Ana Vuksani (11) and Michael Gabriel (10) from St Anthony's Catholic Primary in Newham.
In a story of David and Goliath proportions, they managed to convince London City Airport through song to raise the wages of 100 workers. The group's song, titled "Realise", and its message has been supported by London Mayor Sadiq Khan.
The group were inspired to take up the cause as their school community is directly affected by low wages, with many parents working two to three jobs. City Airport is also the largest employer in the area, with 60% of its staff living in its vicinity. The school successfully negotiated with the airport to become a London Living Wage employer in March 2019.
Their teacher said: "As students at a Catholic school, the children are encouraged to put their faith into practice by engaging with the community and serving in whatever capacity they are able to. Working with Newham Citizens and the Living Wage Foundation, the group have been able to represent many members of their school and parish community, give testimony on the experiences of low-income earners and be the voice of those who are not able to speak for themselves. By looking to Jesus' example, dedicating his life of servitude, our students have been generous with their time and energy."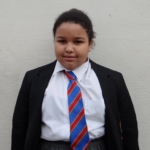 Selina Okonkwo, aged 11, from All Saints Catholic School in Dagenham was highly commended in the Barbara Ward category, caring for the environment. When Selina joined All Saints Catholic school, she was very shy and retiring and was often worried. With support from her head of year she became a student leader and advocate for others in school. She galvanised a group of Year 7 pupils to litter pick in school. Selina went further by inspiring a new eco-warriors group. Selina recognised there were areas for improvement and pitched an idea with friends that led to the club's creation. Keen to have a school-wide impact on the environment, students volunteered to look after the environment at lunch and break times. The eco-warriors are reviewing each area of the school's impact to see what sustainable resources can be used to alleviate the impact on the environment as in her words, "God has given us this planet we should protect God's gift for others".
Million Minutes' CEO Danny Curtin said: "Young people all too often get a bad name, but their selfless and sometimes unseen actions can inspire all of us. Million Minutes is all about giving a voice to the young people that get overlooked. We're delighted to have held these awards for the fourth year to recognise young people from across England and Wales. We want to celebrate all that they are and all that they give to our world."
You can read about all our inspiring Award Recipients and those recognised as 'Highly commended' on our award website: millionminutes.org/awards.
The Awards evening also announced the launch of a new campaign, Million Minutes of Change. Million Minutes will deliver a message to the young people of England and Wales, letting them know valuable and important they are to the Church. Together, they are being invited to creating a million minutes of social action to help change the world: millionminutes.org/change.