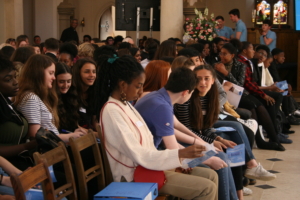 National Youth Sunday 2020 takes place on Sunday 22 November, the feast of Christ the King. National Youth Sunday represents an opportunity to explicitly recognise young people as a gift in the Church and affirm their contribution in the life of the local and universal Church. National Youth Sunday usually provides parishes with an opportunity to focus on the role of young people in the Sunday liturgy and in parish life – and collect funds for youth work. Whilst it is not possible to celebrate National Youth Sunday in the usual way, this year parishes are being encouraged to pray for young people.
The theme is 'Together'. In light of COVID-19, the theme recognises what it means to be 'together'; with ourselves, with others and with God; and the significance of being together.
Pope Francis expresses this beautifully. "To come out of this crisis better than before, we have to do so together; together, not alone. Together. Alone no, because it cannot be done. Either it is done together, or it is not done. We must do it together, all of us, in solidarity."
Pope Francis, September 2020
Fr Dominic writes:
"BCYS would normally be asking young volunteers from around the diocese to come and speak in parishes about the youth service, our work and their own experiences, but as that is not possible this year we have a video series from 16 – 21 November. BCYS members past and present will be sharing their own experiences, and giving an insight into where they are now and how BCYS has helped them get there – read more at https://bcys.net/events/nysvideos/
On 22 November, on YouTube, we'll have a five-minute video full of young voices, speaking more about our work. This will be available across all our social media, and the link will be posted here shortly. We will also be happy to send this video directly to anyone who can make use of this resource.
We would also normally hope to be able to hold a second collection to support all the work of the Youth Service, particularly our bursary scheme which helps young people who would otherwise struggle with the costs of events, to make sure everyone can be involved. With public Masses suspended for Lockdown, we are completely reliant on donations made online – all the information is at https://bcys.net/donate/ This includes postal information if you prefer to send a cheque, as well as account details for online donations.  Thank you for your continued support.
More information at https://bcys.net/events/nys2020/
There are excellent resources – for schools, parishes, and for young people themselves – at www.nationalyouthsunday.com."
National Youth Funday
This year CYMFYD is also introducing National Youth Funday (NYFD) on Friday 20 November. It says: "Recognising that we cannot be together on National Youth Sunday as we normally would, NYFD allows us to mark National Youth Sunday with young people in school. We are inviting schools across England and Wales to join us online for a day of live-streamed activities.
"The day will be hosted by youth ministry teams from across the country who will lead us in prayer and fun activities as we unpack the theme of 'together'. We're delighted that Cardinal Vincent Nichols will be joining us to start our day in prayer with music led by Joe Wells of One Hope Project. The day starts at 9.45am and finishes with a closing liturgy at 2.10pm."
Schools are encouraged to register at www.nationalyouthsunday.com/nyfd