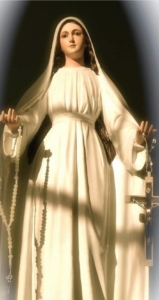 Bishop Alan has written to parishes requesting them to engage, individually or in families, in a Rosary Relay as part of the Rosary Mission taking place during the month of May. Catholics in dioceses across the UK are to say the Rosary at different times during the day, creating a relay of prayer. Bishop Alan will be praying the Rosary after saying Pentecost Mass at Our Lady of Good Counsel, Wickford  at 10am. Both the Mass and the Rosary will be livestreamed. Please join him if you can at http://wickfordcatholic.com/live-streaming/
Pope Francis' Letter on the Month of May said: "It is traditional in this month to pray the Rosary at home within the family. The restrictions of the pandemic have made us come to appreciate all the more this 'family' aspect, also from a spiritual point of view. For this reason, I want to encourage everyone to rediscover the beauty of praying the Rosary at home in the month of May. This can be done either as a group or individually; you can decide according to your own situations, making the most of both opportunities. The key to doing this is always simplicity, and it is easy also on the internet to find good models of prayers to follow."
In response to Pope Francis' request, set out above, there has been an 8pm May Rosary Mission co-hosted by the London Rosary Shrine, the Basilica of Our Lady of Walsingham, Carfin Grotto in Scotland and Rosary on the Coast. As a culmination to this Rosary Mission, Mgr John Armitage, the Rector at the National Shrine of Our Lady at Walsingham, has invited each diocese to take part in a simple initiative – a Rosary Relay on 31 May 2020. Each diocese has been asked to encourage their people to pray the Rosary either individually, or where possible in groups, during a designated hour.
Bishop Alan says: "The Diocese of Brentwood has been asked to pray the Rosary at 11am on the 31 May, Pentecost Sunday – please see the attached poster  with further details including the prayer intentions for each hour.  I will be praying the Rosary myself during this hour after the livestreamed 10 am Pentecost Mass at Wickford. I would encourage everyone, in whatever ways possible, to join in this National Prayer Initiative."
The prayer intentions of the national Rosary Rally are:
For faith, sanctity of life and peace to prevail in our nations.
For an end to the Covid-19 virus, the sickness it causes and its effects that prevent us living life in abundance. (CF Jn 10:10);
For the protection of the common good and people's economic livelihoods.
That the Holy Spirit will preserve us from disaster and war.
The Rosary Rally will end at 9pm with final blessings from Bishop John Keenan at St Mirin's Cathedral, Paisley.