Young people at the Brentwood Catholic Youth Service are encouraging people and parishes across the diocese to adopt a reverse Advent calendar this year – collecting a different item every day in the run up to Christmas, in order to provide a family in need with a foodbank parcel.
The volunteer team, which is based Walsingham House at Abbotswick, is producing a series of Advent reflections on YouTube, Facebook and Instagram. In her video, Rachel Kwasnisca, from Our Lady of Lourdes, Leigh, explains the reverse calendar as a practical way of preparing for Christmas – and avoiding the distraction of the over-commercialisation of the feast.
"When we give of ourselves to others, we find joy, peace and hope – the true meaning of Christmas," she says. BCYS has drawn on the ideas of the Trussell Trust and others to develop their own list of items for the calendar, and advises individuals to find out their nearest drop off point for the collection – whether a supermarket, parish or foodbank.
Rachel doesn't want people to donate more than they feel able to, and quotes St Mother Theresa: 'It's not how much you do, but how much love you put into what you do that counts.'
"If we do what we can, with love at the centre of all acts of kindness and giving, we can properly prepare for the coming of Christ this Advent," says Rachel.
Fr Dominic Howarth, who works with the BCYS team at Walsingham House at Abbotswick, warmly endorses the idea. "The themes of Advent are hope, peace, joy and then love. How much we need those themes to resonate in our hearts and lives this Advent time!"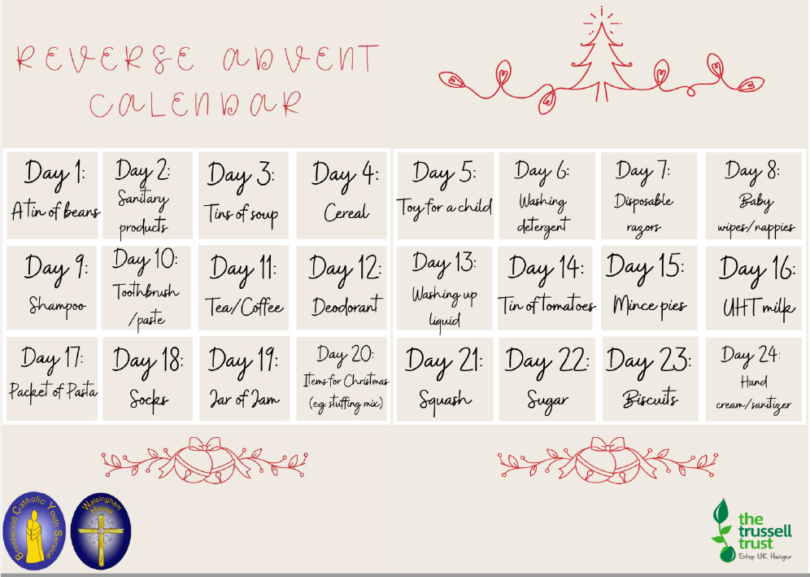 He also recommends another initiative adopted by the Youth Team: Advent Angels. "Like Secret Santa, pick a family member's name out of a hat and try to do extra acts of kindness for that person during Advent, in such a way that the recipient doesn't know who their benefactor is – if possible. Then have a big reveal on Christmas Eve. Or choose someone from your extended family and send them special Whatsapps or emails to brighten their day."
He adds: "Generosity of heart and spirit is an antidote to stress and trouble."
Tell Out My Soul Advent Reflection – Reverse Advent Calendar