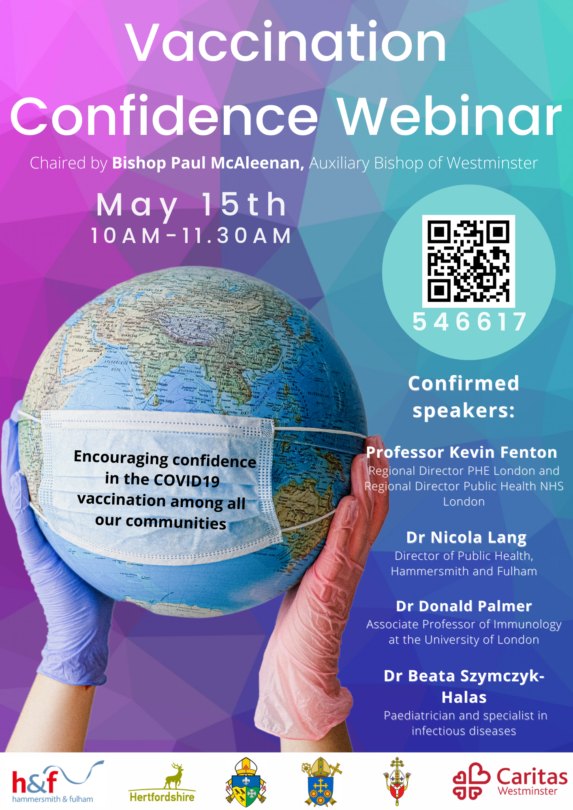 A Covid-19 vaccine confidence webinar has been organised for the people of the Dioceses of Brentwood, Southwark and Westminster, with the cooperation of Hertfordshire County Council and Hammersmith & Fulham Council, and other local authorities. It will take place on 15 May.
As the Covid vaccine programme rollout continues, public health bodies and local authorities recognise that the Church has a key role to play in sharing information about vaccines with the faithful. Accordingly, with the encouragement of these public health experts, a second webinar has been organised to answer questions which parishioners might have. It will take place on Saturday 15 May from 10am to 11.30am and will feature a panel of eminent medical experts, including Prof Kevin Fenton, Regional Director of Public Health London. The full list of experts is on the attached poster.
Participation is completely anonymous and registration is not required. The panel will share the latest information on the COVID-19 vaccines.  There will be an opportunity for participants to ask questions anonymously.
To join the webinar: https://zoom.us/j/99627319556 Passcode: 546617
The recording of the previous webinar, held prior to Easter, is available to view at: https://rcdow.org.uk/news/vaccination-confidence-webinar/
British Society for Immunology guide to vaccinations: https://www.immunology.org/public-information/guide-vaccinations-for-covid-19
NHS Q&A: Created to answer the public's questions about the COVID-19 vaccines: https://www.covidvaxfacts.info/
Portal: Hertfordshire Care Providers Association (HCPA): https://www.hcpa.info/covid-19-vaccinations/
CAFOD's International Coronavirus Appeal : Coronavirus Appeal | CAFOD