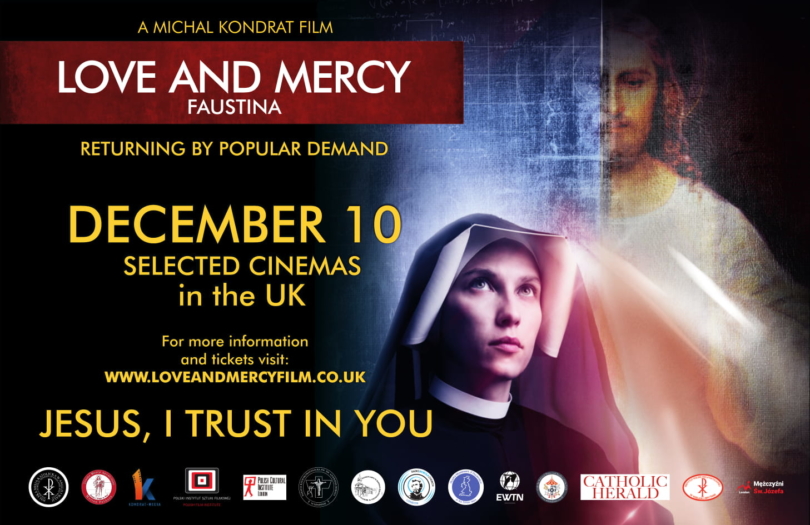 Docudrama "Love and Mercy: Faustina", shown for one night only in the UK and Ireland cinemas in November, is back by popular demand. After it played to packed cinemas on 18 November, it is to be reshown on December 10 in the UK and December 9, 10, 16 in Ireland at the original locations and 50 new cinemas.
The docudrama was written and directed by Michal Kondrat, a Polish filmmaker and tells the story of Sr Faustina Kowalska, who saw apparitions of Jesus in the 1930s, which led to the Divine Mercy devotion.
The film reveals previously unknown facts and recently disclosed documents that shed new light on the truth of the Divine Mercy message.  In the apparitions, Jesus urged Sr. Faustina to paint an image according to the pattern that she had seen, and requested to have the image venerated, first in the sisters' chapel, and then throughout the world.
The venerated image under this Christological title refers to what Sr. Faustina's diary describes as "God's loving mercy" towards all people, especially for sinners. Scientific analysis included in the film indicates that Sr. Faustina indeed saw the Lord Jesus. Cooperating with the Kondrat-Media team, a group of experts found letters of Fr. Michal Sopocko (Sr. Faustina's confessor), and, while browsing forgotten archives, they found additional previously unknown documents.  Aided by scientific analysis, the film reveals how the Divine Mercy image and the Shroud of Turin were compared to one another to stunning conclusions.
Dramatically recreated scenes between Saint Faustina and her confessor Father Michał Sopoćko traces the story of the origins of the image and how the devotion to Divine Mercy was born and spread throughout the world. Shot in the US, Poland and Lithuania, the film is a compelling hybrid of dramatization and documentary-style storytelling that will leave viewers in awe of this spectacular account of divine friendship.
Here is the list of cinemas where the film is to be shown:
http://loveandmercyfilm.co.uk/tickets/
Watch the trailer for "Love and Mercy: Faustina" here: