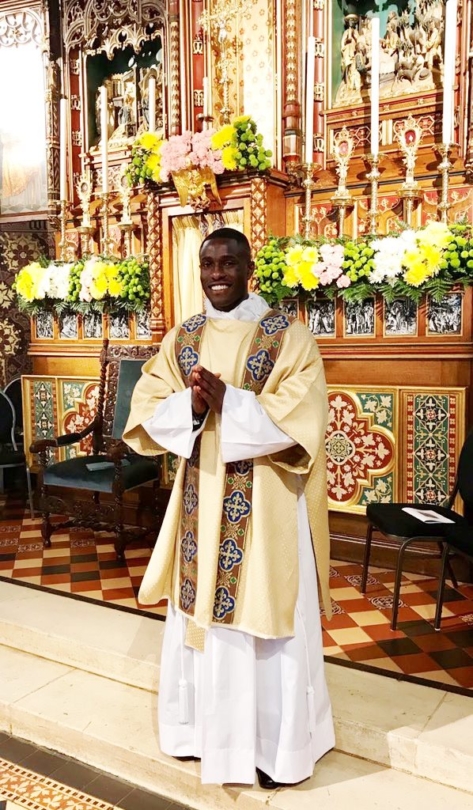 Brentwood's newest deacon, Rev Paschal Uche, has recently been in Lourdes on the Diocesan Pilgrimage. Paschal has been studying at St Mary's Seminary, Oscott for the last five years and was ordained a deacon on 29 June, along with 10 others from dioceses across the country. Archbishop Bernard Longley led the Diaconate Ordinations in front of the deacons' family, friends and supporters in a packed Chapel. Read His Grace's Homily here.
The ordination service also featured another Brentwood seminarian, Alexander Johnson, who read the first reading. Other Brentwood seminarians at Oscott are Michael Barwick and Jonathan Burden.
It was a major step on the journey to priesthood which began a number of years ago for Paschal, who hails from Wanstead. He was only 16 when he first sensed a calling to priesthood.  Some may remember Paschal, in BCYS blue, greeting Pope Benedict XVI on the steps of Westminster Cathedral, on behalf of the young people of Brentwood Diocese.
"I first became involved with BCYS through my sister, who had been to Lourdes with our parish. Stratford sent a large contingent year in and year out.  But it wasn't until I went to World Youth Day in Sydney that I began to think about priesthood. The religious sisters I saw there, young women who had given their lives, were inspirational. I became aware of the adventure of a life giving yourself completely to God."
He went on to study pharmacy at Nottingham University to keep his options open but by the time he had completed the course, the seed had grown. "It was quite difficult for my family but by the time I shared my intentions with them at the end of uni, I had enough conviction to carry it through. I was sure about what I wanted to do."
He was influenced, he says, by the Nigerian chaplaincy priests he had encountered as he grew up in Stratford, particularly Fr Albert Ofere. "I went to talk to the vocations promoter and director at the time, Fr Dominic Howarth and Fr John Armitage, and was ultimately accepted as a seminarian by Bishop Thomas in 2014."
Five years on, he describes his ordination as a deacon as "an amazing day". "It was so joyful and powerful – the most memorable day of my life. I have wanted this for so long – it is the culmination of a journey. Everything came together and made sense."
He felt a mix of emotions, he says. "I had a moment when the gravity and privilege of being called to be a priest really dawned on me – what that means."
Priesthood is an adventure, he says, because you do not know fully how your life will develop. "The alternatives – marriage and a job in pharmacy – seemed so predictable. The uncertainty and sense of adventure of priesthood excited me and drew me in a way that the norm of marriage and job didn't."
Did he think about what he was giving up – marriage, a family? "That wasn't the focus for me; it was the draw of priesthood, becoming an instrument for God and all that meant. It didn't mean that I didn't think about what I was giving up – but giving up everything is part of giving myself fully to God."
After the ordination service, Rev Paschal posed with family, Brentwood priests and seminarians – (pictured below with Fr James McKay, Fr Graham Smith, Fr David Pearce, Deacon Paschal Uche, Fr Paul Keane, Vice Rector and Dean of Theology at Oscott, Jonathan Burden, Alexander Johnson, Michael Barwick and Fr Dominic Howarth).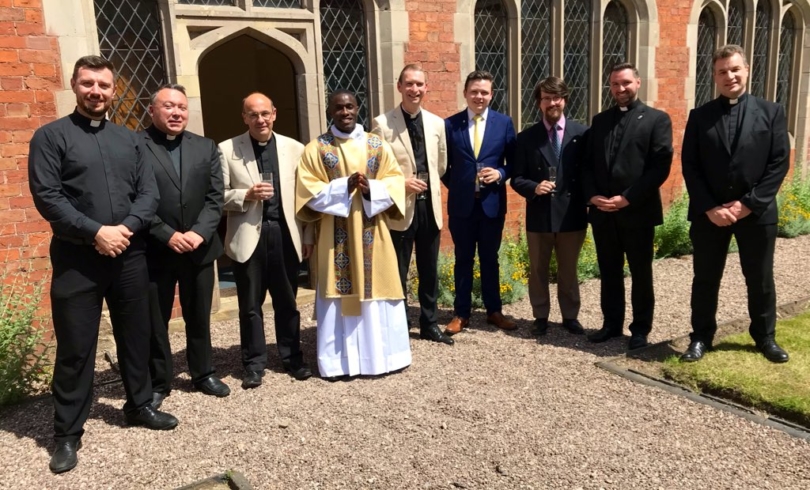 At Lourdes with the Brentwood Diocesan Pilgrimage, just three weeks later, he talked through what it means to be a deacon in the short video below.
Pictures by Con McHugh
Listen to other vocations stories here
Rev Paschal Uche on what it means to be a deacon
Pictures from Birmingham Diocesan Flickr stream