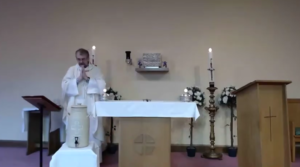 Lipreading during Masses which are being streamed is very tricky for those who are deaf or hard of hearing. Fortunately, there are a number of signed Masses available, while some YouTube feeds, like that of Our Lady of Lourdes and St Joseph in Leigh, have the facility to provide recordings with subtitles.
Fr Shaun Lennard at Our Lady and St Vincent's in Potters Bar signs a live streamed Mass every week (Saturday Vigil Mass at 6pm). The Easter Masses are available as recordings now at: www.churchservices.tv/pottersbar
Meanwhile, Fr Keith Stoakes is livestreaming signed Masses at 11am from Poplar on YouTube: search for SS Mary and Joseph Catholic Church Poplar.  youtube.com/channel/UCn5VpPOmUH5PuwDBrK5NgkQ
The Catholic Deaf Association also has signed videos of the Easter liturgies available, courtesy of Fr Paul Fletcher SJ, as well as Pope Francis' Urbi et Orbi blessing and the recent Rededication of England to Our Lady.