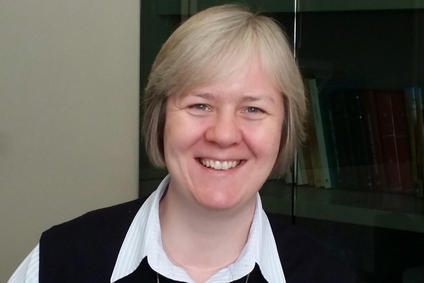 Sister Elaine Penrice has been appointed as Director of the National Office of Vocation.
Bishop Terence Drainey, Chair of the Management Board of the National Office for Vocation, said he was delighted to be able to announce the appointment.
"I have worked with Sr Elaine in her role as Religious Life Promoter and as the acting Director of the National Office for Vocations over the last few years and I am sure she will continue her innovative work into the future."
Sr Elaine was born in Motherwell, Scotland, in 1972 and after completing her studies in Art & Design at the University of Dundee she entered the Daughters of St Paul, an international congregation of consecrated religious founded to evangelise with the modern means of communication. Sr Elaine spent much of her formation years in Rome, and then in St Louis, USA, where she completed her theological studies at St Louis University. Sr Elaine currently works as Productions Coordinator at Pauline Books & Media, and also serves on the leadership team of the Daughters of St Paul with responsibility for vocations ministry.
Sr Elaine said: "It is both exciting and challenging to be the first woman to take up the position of Director of the National Office for Vocations and I thank the Bishops' Conference for their support and confidence in me.
"In the three years since I began working with NOV as the Religious Life Promoter, I have very much enjoyed being able to support both enquirers and vocations directors and I look forward to developing the work of the office to meet the needs of the Church in England & Wales.
"I would also like to thank the Conference of Religious in England & Wales for their support in these past three years, and I know they will continue to be my close collaborators in my new role.
"To embrace one's vocation is the road to profound peace. It colours everything in our life.
Whether we are called to religious life, holy orders, marriage, or single discipleship, the Church needs us all to witness to 'the riches of the glory of this mystery, which is Christ' (Col. 1:27)."