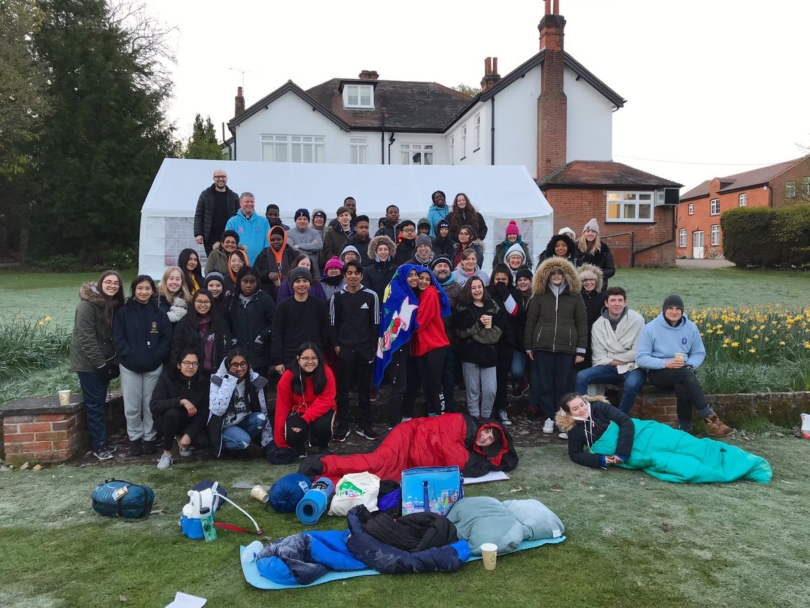 Could you sleep out in solidarity with the homeless? BCYS is once again organising a Sponsored Sleepout on Friday 3 April – Saturday 4 April, in the grounds of Walsingham House at Abbotswick.
Last year's event saw Bishop Alan celebrate Mass just before midnight, while Phyl McLaren, who works with the homeless in Basildon, shared her testimony with the participants. Many parishes took part but special mention went to Fr Daniel Kelly and the young people from Our Lady and All Saints, Basildon, who raised nearly £3,000, and Fr Martin Boland, Dean and parish priest at the Cathedral Parish, who raised well over £2,000.  The grand total of £10,157.46 was shared between a number of charities including the NEWWay Homeless project and Caritas Anchor House in Newham, the Basildon Emergency Night Shelter and Project 58:7, Basildon and the Southend Winter Night Shelter. It also provided some funds to support young people in financial hardship to attend events and pilgrimages with BCYS.
This year, the evening will begin at 8pm with a film and talk; or participants can arrive at 11pm for Mass. The sleepout follows from midnight to 7am.  Fr Dominic Howarth, who works with BCYS, says: "In this freezing weather, it is very difficult for those who are sleeping on the streets. The Sleepout is a powerful way to understand what it feels like to sleep outside, while raising money for homeless charities."
So why not get a group of friends together to share the experience and raise money for homeless charities? Interested groups should register by emailing [email protected]; individuals can register on www.bcys.net. Open to anyone aged 15-105 (those aged 15-18 must be part of a group, and have parental consent).