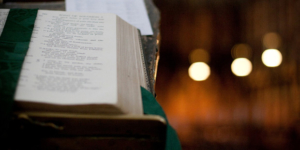 Bishop Alan has written to parishes to give them the latest updates from a meeting with the Coronavirus Places of Worship Task Force. The Catholic Church was represented at the meeting by Cardinal Nichols and Professor Jim McManus along with Canon Chris Thomas.  The highlights of the discussion are as follows:
The safety and opening of churches
Health professional research to date indicates that the new virus variant is as well controlled by social distancing and mitigations as the old.  Further studies are taking place for a more concrete verification on this matter.
HM Government stressed that there would be no blanket closure of places of worship.  They asked that each Place of Worship should re-evaluate their own local situation and examine all factors that could affect the good Covid security demonstrated by places of worship so far.  This is to include (but is not limited to):

Sufficient stewarding and management of the venue
Sufficient cleaning after acts of communal worship
Maintaining good social distancing in the space available along with good ventilation
Factors affecting travel to and from the place of worship, such as public transport
The length of exposure time for an act of worship is critical and should be minimised – anything that is not necessary should be omitted.
Those who have gathered for worship should not mingle before or after the service outside of the church.  They should disperse immediately.

All non-essential worship should be postponed or cancelled (see below)
The officials noted that keeping Covid secure places of worship open for public worship adds no extra burden to the NHS and provides recognised benefits for the community.
The task force expressed with great clarity that the role of the Local Authority is one of enforcement of closure in particular circumstances on the basis of evidence of lack of Covid security.
Public Health England will conduct an exercise in mapping exposure risks from different venues across the country for better data.
Attending a place of worship is one of the very few legal exemptions that allow larger numbers to gather in the same venue.  To keep everyone safe, where places of worship choose to open it is crucial that those attending comply with the law and Covid-19 Secure guidance.
Bishop Alan said:  "Thanks to the wonderful work done in parishes by our stewards and other helpers, our churches are amongst the safest of public spaces.  Nevertheless it is essential that good Covid security is maintained.  Any church that cannot open safely, with all the necessary Covid measures in place, should not do so."
Updated Guidance for Places of Worship from the Ministry of Housing, Communities & Local Government  (11 January)
https://www.gov.uk/government/publications/covid-19-guidance-for-the-safe-use-of-places-of-worship-during-the-pandemic-from-4-july/covid-19-guidance-for-the-safe-use-of-places-of-worship-from-2-december