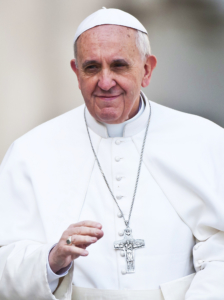 Bishop Alan Williams sm has written to parish priests asking them to encourage their congregations to embrace any opportunity for vaccination against Covid-19. Evidence across the country is showing that there is "vaccination hesitancy" amongst certain groups of people, in particular the BAME community, because of misinformation on social media.  Bishop Alan cited the words of Pope Francis, who was vaccinated along with Pope Emeritus Benedict XVI last week.
"I believe that ethically everyone must take the vaccine," said Pope Francis  "It is not an option; it is an ethical action, because you are playing with your health, you are playing with your life, but you are also playing with the lives of others."
He added, if the doctors say the vaccine is safe and does not present "special dangers" to someone, then they should take it.
"There exists a suicidal denialism in this which I cannot explain," the Pope said. He added that it is time to "think about the 'we' and erase for a period of time the 'I', putting it within brackets. Either we are all saved together or no one is saved." https://www.rt.com/news/512030-pope-francis-covid19-vaccine/
Earlier in the year, the Bishops' Conference also endorsed the current vaccines, issuing the following statement https://www.dioceseofbrentwood.net/news/bishops-issue-statement-covid-19-vaccine-development. In it they addressed specific concerns about the origin of one of the vaccines, saying "Catholics may in good conscience receive any of these vaccines for the good of others and themselves".
In its recent meeting with the Coronavirus Places of Worship Task Force, the Catholic Church raised the issue of vaccination for hospital chaplains and care home chaplains, as well as clergy in general, said Bishop Alan. He also stressed the Government request for volunteer support in areas with vaccination hubs/centres. This should be done through the local health commissioning groups, he added.