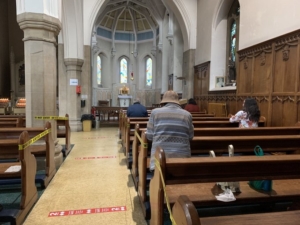 The Diocesan Health and Safety Coordinator has given the following advice to parishes across the Diocese:
As a result of the developing Covid situation, most of Essex and all of London are now in the new Tier 4 with stricter rules to be followed. The only exceptions are Colchester, Uttlesford and Tendring which are in Tier 2.
Communal worship can continue but, with the capability of the transmissible rate of the virus being greatly increased with this latest variant, the need for extra vigilance in maintaining Covid security could not be greater. The rules for attendance at places of worship remain the same and, except in Tier 2 on Christmas Day (not Christmas Eve), Christmas bubbles no longer apply so people must be seated in households and not mingle with anyone outside of their household or support bubble.
Weddings are not permitted in Tier 4 areas except in exceptional circumstances.
The Christmas bubble applies on Christmas Day only in Tier 2 and does not apply to those in Tier 4 where it is not permitted to join or form a Christmas bubble.  There should be no household mixing aside from an already established support bubble.
In Tier 4 church halls can only be used for registered childcare groups and any other supervised activity for childcare purposes that are necessary to allow parents/carers to work, seek work, or undertake education or training. In addition, support groups that have to be delivered in person can continue with up to 15 participants where formally organised to provide mutual aid, therapy or any other form of support. There is no permitted use for indoor sports or exercise activity.
As far as workplaces are concerned, people should work from home if they can.
COVID-19_Tier_4__19_December_2020_Stay at Home[35238]
Further information can be found at:
https://www.gov.uk/guidance/tier-4-stay-at-home#stay-at-home
https://www.gov.uk/guidance/local-restriction-tiers-what-you-need-to-know
Livestreaming of Masses is widely available in the Diocese and is the safest way to celebrate Christmas for those who are more vulnerable: https://www.dioceseofbrentwood.net/news/covid-19-can-parish/
There is no obligation to attend Mass and those who are shielding or clinically extremely vulnerable should follow the additional Government advice to stay at home as much as possible: https://www.gov.uk/government/publications/guidance-on-shielding-and-protecting-extremely-vulnerable-persons-from-covid-19/