Robert Simpson – Director of Education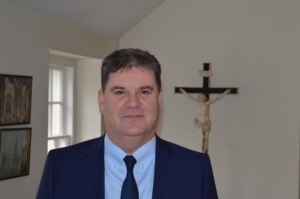 Rob completed a Bachelor of Education Degree with Honours in Theology at Leeds prior to starting his teaching career in a large Catholic Secondary School in Bedfordshire. Following further study in Religious Education and Catholic School Leadership he worked as Deputy Headteacher on the Senior Teams of Catholic schools in North London and Milton Keynes. Robert moved to Buckinghamshire to take up the post of Headteacher of an 11-18 Catholic Secondary School in January 2005. He successfully led this school through an amalgamation process with a neighboring Primary School in 2011 to create a Catholic all through school which provided education for children from Nursery to Sixth Form. He led the school through several successful OFSTED inspections before working for the Anglican Diocese of Oxford as their Principal Secondary Adviser with responsibility for Business development. Rob also trained as an OFSTED and Section 48 Inspector. Rob now leads an expanding Diocesan Education Service at the Diocese of Brentwood and is keen to use the experience and knowledge that he has gained to support school leaders and staff in providing excellent Catholic education for all who attend our schools.
Moira Bishop – Deputy Director of Education (Interim)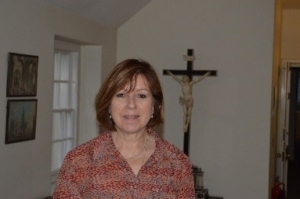 Moira has over 25 years' experience of working in Local Government, specialising in Property, Capital Strategy and Contract Management. Notable successes are (1) securing over £250m capital funding for school and leading major capital projects with multiple stakeholders; (2) leading a successful Judicial Review against the Government; (3) developing innovative solutions to address the increase in demand for school places and (4) carrying out strategic service reviews and developing new and efficient ways of delivering services. Moira has over 20 years of experience of working with Head teachers and Governors, developing strategic asset management plans, providing financial and governance advice, including bringing schools together under a range of governance structures. Although Moira's main focus at the Diocese is to provide support and advice to school on all aspects of building development, Moira also provides advice on the creating new school places and financial management. Moira  has excellent technical ability and with her positive and amiable personality often brings  'the human touch'  to challenging situations.
John Adams – Secondary Schools R.E. Adviser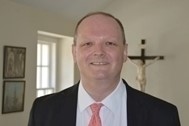 John studied German and French at Royal Holloway and started teaching at All Saints Catholic School, Dagenham in 1991, where he remained for 26 years. He began to teach Religious Education alongside Modern Foreign Languages until RE soon became his sole subject and he was appointed Head of RE in 2000, a post in which he remained for 17 years until becoming Diocesan Secondary Adviser.  A product of the Catholic Certificate in Religious Studies himself, he began to tutor the course in 2006 and has to date helped over 100 teachers towards achieving the qualification. He saw All Saints move from a Good to an Outstanding Catholic school and led his department successfully through diocesan inspections.  John worked with NBRIA and NOCN in establishing General Sixth Form RE certification and funding. He founded and led for 15 years a cross-curricular extension programme initiative supporting pilgrimage and awareness of Catholic heritage in Europe, with study trips to Rome, Naples, Lourdes, the Black Forest, Alsace, Bavaria and Catalonia. John is accredited as a Specialist Leader in Education, specialising in Religious Education, and looks forward to assisting schools and their RE departments in responding to curriculum change and support schools achieving excellence in provision in Religious Education.
Sr Jude Groden, rsm – Primary Schools R.E. Adviser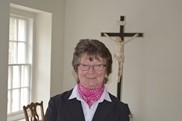 Sr Jude is a Sister of Mercy and author with a wide variety of teaching experience for over twenty years in different parts of the country which included  leadership roles, such as, deputy Headteacher and Headteacher. She is an experienced S48 Inspector and Ofsted trained. She holds a B.Ed (Hons) and obtained an MA in spirituality from the Milltown Institute of Philosophy and Theology, Dublin and has been a Primary R.E. Adviser for the Brentwood Diocese for over twenty years. She collaborated with a Carmelite theologian and produced nine user friendly resources for schools and parishes which were published by McCrimmons Publishing.
Lisa Gunther – Education Service Administrator
Lisa graduated from the University of Sheffield with a BA Hons in Business & Management, she has spent most of her career as a strategic business development project manager for professional service firms including global Accountancy and Law practices. She is a Chartered Marketer recognised by the Chartered Institute of Marketing & has a PR diploma. Shortly after her eldest son started primary school, Lisa became a school Governor and is currently in her second term of office. She is Chair of the Teaching and Standards Sub-Committee and one of two Governors jointly responsible for data assessment. Lisa is also an RFU qualified referee and coach and runs a local mini's team. Lisa has been part of the Diocesan Education team for 2 and a half years providing administrative support.
Derek Kelly – Rainbows Bereavement Support Training  Co-ordinator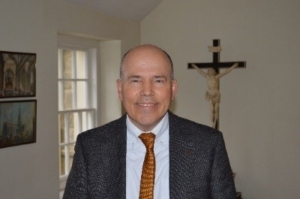 Derek is a qualified teacher having trained at St Mary's College, Strawberry Hill where he studied Theology as a specialist subject and has extensive teaching and leadership experience in Catholic schools in the Diocese of Brentwood. Following further study in School Leadership and gaining a Bachelor of Arts degree he worked as a Deputy Headteacher in Catholic schools in East London and Essex. In 1995 Derek trained with OFSTED and also became a Diocesan S48 Inspector. After gaining the National Professional Qualification for Headship in 2007, he became a freelance trainer and school improvement consultant, providing successful leadership in schools dealing with transitional management and building robust leadership teams able to cope with challenges. In 2008 Derek qualified as a Rainbows Bereavement Support Registered Director and became the Rainbows Diocesan Training
Co-ordinator. Most recently he gained a degree in Pastoral Mission from Heythrop College. Derek is eager to support schools, particularly in their ministry of compassion for grieving children.
Cathy McKenna – Secondary Schools Link Adviser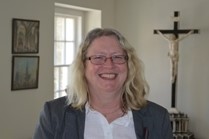 Cathy graduated in History from Leicester and followed this with a PGCE. Her teaching career began in Hull at a Catholic middle school, which over time transformed into a Primary School. She then worked in the London Borough of Sutton in a Catholic Primary school leading on PE and IT. She then spent 17 years on the edge of the New Forest working in 2 large secondary schools, one in Hampshire best described as innovative and pioneering as Head of History within a large humanities department; she then moved onto to a VA Church of England School in Salisbury where she was Head of Humanities. She moved again and took up the post of Assistant Principal in a large comprehensive in North East Essex. Part of the remit was post 16 provision graded as outstanding at the time of a whole school inspection. As part of the leadership team most recently her focus has been on curriculum. Cathy has also taught a module on Educational Assessment on the Professional Masters programme at Bath Spa University and has been an Ofqual external expert since 2014. Most recently she has been working with Jack Whitehead on an Action Research project. She is delighted to have returned to the Catholic education sector and is looking forward to sharing her experience and the knowledge in support of colleagues to help ensure the best possible outcomes for all students.
Maria Shepherd – Primary Schools Link Adviser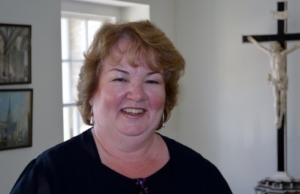 Maria completed her B.Ed (Hons) in Education and English at Digby Stuart College, Roehampton before beginning her primary school teaching career in a Catholic primary school in Brixton. After a couple of years, she spent a brief time teaching in a Catholic school in Essex, before returning home to Kent. Over the next few years she worked in a variety of state and Catholic schools doing supply and short term contracts whilst her 3 children were very young. In 1995, she became the Deputy Head in a Catholic primary school in Dartford and during this time, she undertook her NPQH; in 2001, she took up her first headship in the neighbouring Catholic school. After 8 successful years there, she took up the headship of a larger Catholic primary school with a nursery, in Thurrock. Maria completed 8 years of headship in this school, leading the school to a range of successes. During her time there, she also completed a part-time course to gain her Masters in Catholic School Leadership. Maria is looking forward to using the knowledge, skills and experience she has built up over the years, in her new role, to help other schools further develop and improve against the backdrop of a changing world of education and a new and evolving diocesan education department.